Just in time to spoil Labor Day weekend, Hurricane Dorian has barreled through the US Virgin Islands and Puerto Rico without causing much damage, and is now headed straight for the Florida coastline. After intensifying from a tropical storm into a hurricane late Wednesday, the storm continued to strengthen as it pulled closer to the Continental US.
The storm is expected to continue strengthening over the next few day, and is expected to make landfall on Florida's Atlantic coast as a CAT 3 storm late Sunday or Monday.
---

Hurricane Dorian is strengthening and may hit the US as a Category 3. It's forecast to grow into a major storm over Labor Day weekend before making landfall along the east coast of Florida. https://cnn.it/32f6wYq 

Track Dorian: https://cnn.it/2zqdugK 
---
In typical fashion, president Trump warned that Dorian will be "a very big storm, perhaps one of the biggest!" and urged people to follow state and federal instructions.
---

Hurricane Dorian looks like it will be hitting Florida late Sunday night. Be prepared and please follow State and Federal instructions, it will be a very big Hurricane, perhaps one of the biggest!
---
As of 5 am ET on Thursday, Dorian's center was some 150 miles north-northwest of San Juan, as it headed northwest at 13 mph, according to the National Hurricane Center. Dorian's sustained winds increased to 85 mph, with higher gusts recorded.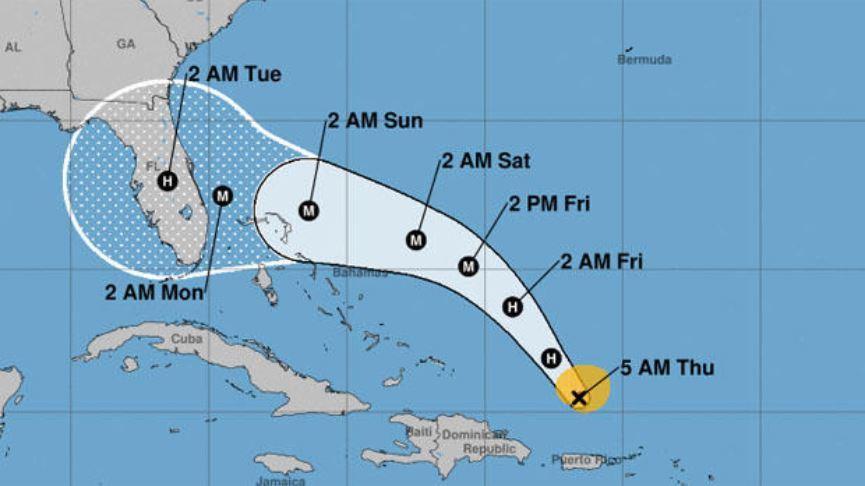 Heavy rain from the storm could cause "life threatening" flash floods in parts of the Bahamas on Thursday, and even along the southeastern US coast.
CBS News weather producer David Parkinson said that "with a new supermoon and the angle the storm is approaching from, widespread coastal flooding, including severe coastal flooding is likely. In addition, as the storm is coming in for landfall, it looks like it might lose some of the steering currents."