A leveraged loan taken out by a company called Clover Technologies about five years ago lost about a third of its value without warning over the past week, according to Bloomberg. The "alarming" and "abrupt" collapse of the recycling company's debt surprised even sophisticated investors that deal in leveraged loans.
And even though the loan isn't large by Wall Street standards – $693 million – it serves as a much needed and stark reminder of the capital that has flocked to leveraged loans in search of yield. The leveraged loan market today is $1.3 trillion and low rates have caused an explosion in borrowing and lax standards in underwriting. The market can also be thin, and this means that collapses like Clover's can happen quickly and without warning.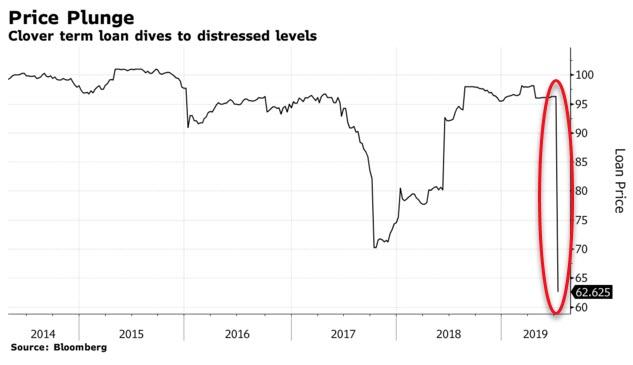 Soren Reynertson of investment bank GLC Advisers & Co said:
"When buyers head for the exits at the same time, prices can drop fast and furiously given the lack of liquidity."
Clover had been operating since 1996 when it was an acquired by Golden Gate in 2010 for an undisclosed sum. Golden Gate piled debt onto the underlying company to extract dividends from it using the leveraged loan market as a wallet. The company took out loans that funded dividend payments totaling at least $278 million and then the company went back to the loan market in 2014, asking lenders for $100 million extra to make an acquisition.
The loans were bought mostly by mutual funds and collateralized loan obligations, which bundle this type of debt into higher rated securities. And there's been little trouble finding buyers for CLOs in recent years, with high grade bond yields hovering near zero.
 …click on the above link to read the rest of the article…