A huge development Thursday regarding enforcement of Iran sanctions and the West's economic war on both Damascus and Tehran: British Royal Marines seized an oil tanker in Gibraltar off Spain's southern coast while it was en route to Syria in what's being called an unprecedented and aggressive move to enforce EU sanctions.
As critics of the West's sanctions policy on Syria are noting: the European Union has for years allowed advanced weaponry to flow into the hands of anti-Assad jihadists, but it will act swiftly to block vital oil access to the war-torn and starved population.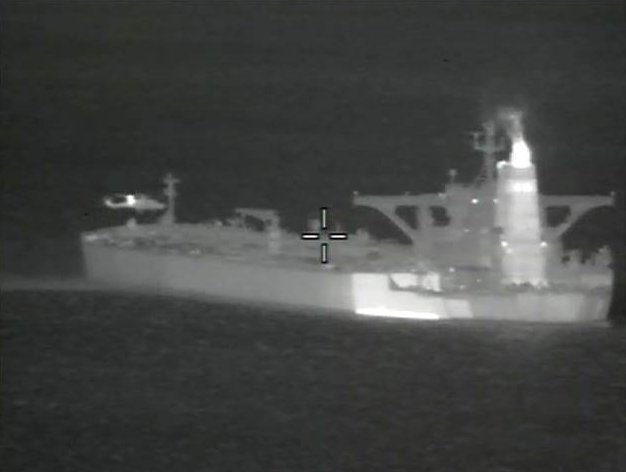 Pic: Royal Marines from 42 Commando fast-roping from a Wildcat helicopter onto tanker headed to Syria under cover of darkness
According to Reuters:
The Grace 1 tanker was impounded in the British territory at the mouth of the Mediterranean Sea, after sailing around Africa from the Gulf. Shipping data reviewed by Reuters suggests it had been loaded with Iranian oil off the coast of Iran, although its documents say the oil is from neighboring Iraq.
Reports say Gibraltar authorities (Gibraltar is a British Overseas Territory) acted on EU sanctions that have been in place for years against Syria; however one EU sanctions and legal expert told Reuters: "This is the first time that the EU has done something so public and so aggressive. I imagine it was also coordinated in some manner with the U.S. given that NATO member forces have been involved."
The ship has been identified as the Grace 1 — a Panamanian-flagged tanker managed by Singapore-based IShips Management Pte Ltd. — which had apparently taken the unusual step of sailing all the way around the tip of Africa instead of the Suez canal from the Iraqi port of Basra.
…click on the above link to read the rest of the article…