Somewhere, SocGen's permabearish strategist Albert Edwards is dancing a jig, as every day that passes bring us every closer to his trademark "Ice Age."
One week after the universe of negative yielding debt regained its prior high of $11.7 trillion, overnight – thanks to the dovish capitulations by both the ECB and Fed – the notional value of global sovereign debt with a minus yield sign jumped to $12.3 trillion, a new all time high.Source: Bloomberg
The collapse in yields started on Tuesday morning when Mario Draghi said that the central bank might also trim rates and resume its bond-buying should inflation continue to languish well below its 2% target (recently European 5Y5Y forwards hit an all time low but have since rebounded following Draghi's comments).
The dovish comments sent another jolt through fixed income markets and pushed another $714bn worth of bonds into sub-zero yield territory on Tuesday. The market value of bonds trading at negative yields — once thought to be economic lunacy — to a fresh record of $12.3TN, according to Bloomberg surpassing the last peak in 2016. The average yield of the global bond market is now just 1.76 per cent, down from 2.51 per cent in November last year.
Meanwhile, in another startling observation, Bank of America recently wrote that "highly-anticipated events in recent years (e.g. Shanghai G20, Brexit, Trump) have typically coincided with big unwinds of crowded positions; and "Japanification" rate theme max consensus." As a result, the collapse in global inflation breakeven levels have taken global govt bond yields (ex. UST) to a new all-time low of 1.2%.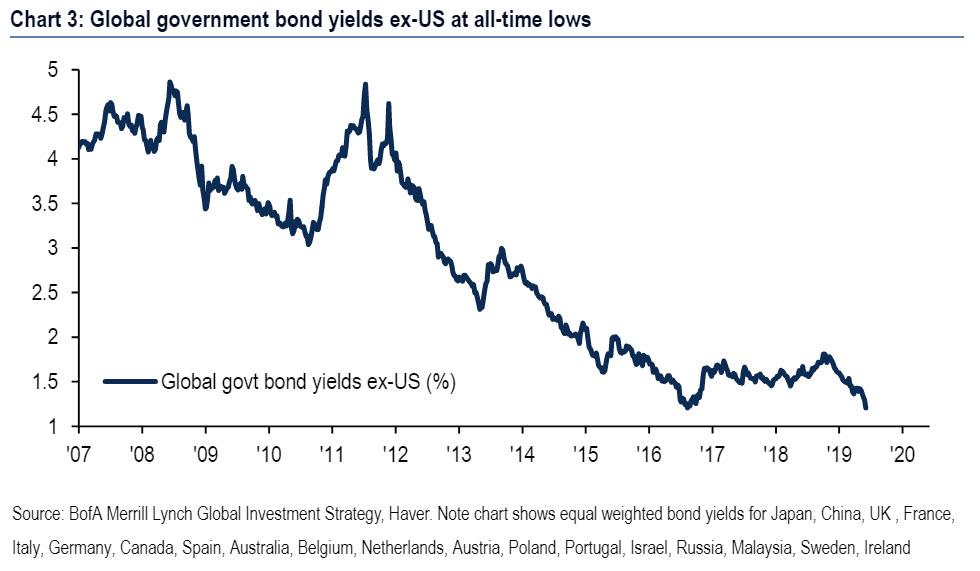 While the majority of core European and Japanese government bonds have been trading with negative yields since 2016, on Tuesday the Austrian, French and Swedish 10-year yields all slumped below zero for the first time. The 10Y German Bund yield stands at -0.32, an all time record low.
…click on the above link to read the rest of the article…