A new survey from Pew Research Center has found that Americans view fake news as a bigger threat than terrorism, violent crime, climate change, racism and illegal immigration.
The survey also found that 68% of US adults say that made-up news and information "greatly impacts Americans' confidence in government institutions," while 54% say it's having a major impact on confidence between fellow Americans, and 51% say it impacts the ability of political leaders to get work done.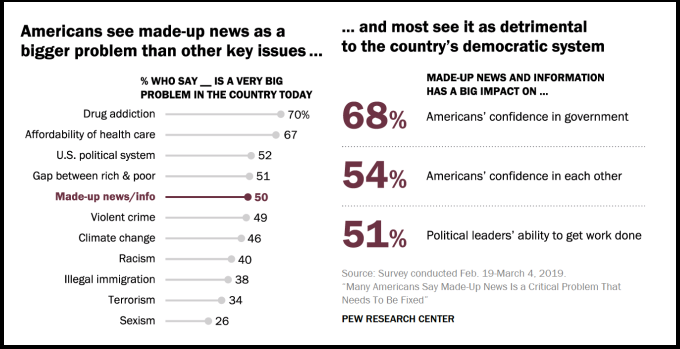 Who's to blame? According to those surveyed, political leaders and activists are more responsible for fake news than journalists, however they believe that it is the primary responsibility of those in the news media to fix the problem. They also said that the issue will become worse down the road.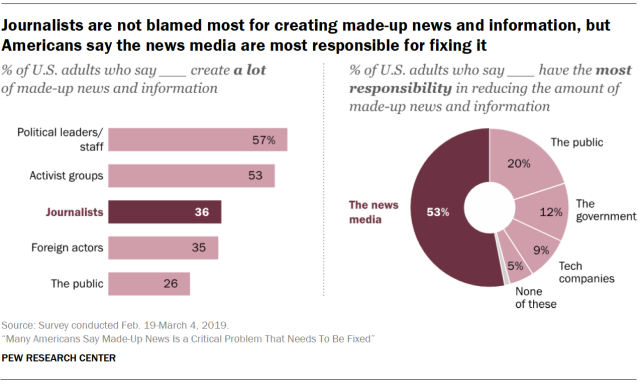 The vast majority of Americans say they sometimes or often encounter made-up news. In response, many have altered their news consumption habits, including by fact-checking the news they get and changing the sources they turn to for news.

In addition, about eight-in-ten U.S. adults (79%) believe steps should be taken to restrict made-up news, as opposed to 20% who see it as protected communication. –Pew
Nearly four-in-ten (38%) of Americans reported 'often' coming across made-up news and information, while another 51% say they 'sometimes' do. In response, Americans have changed their news and technology habits.
Around 78% of respondents say they fact-check news stories, while 63% have stopped getting news from a particular outlet. 52% say they have changed the way they use social media, while 43% have reduced their overall consumption of news. 
…click on the above link to read the rest of the article…