Vancouver prices drop. Toronto down 3.7% from peak, flat for 10 months. Winnipeg plunges most since at least 1990. Quebec City flat for 6 years.
In Greater Vancouver, BC, Canada, house prices fell 0.4% in April from March, the ninth month in a row of month-to-month declines, according to the Teranet-National Bank House Price Index. The index is down 4.7% from the peak in July 2018, the sharpest nine-month decline since July 2009. And it's down 2.8% from April last year. One of the most splendid housing bubbles in the world is now deflating before our very eyes, after prices had skyrocketed 316% from January 2002 to the peak in July 2018 – meaning prices had more than quadrupled in 16 years: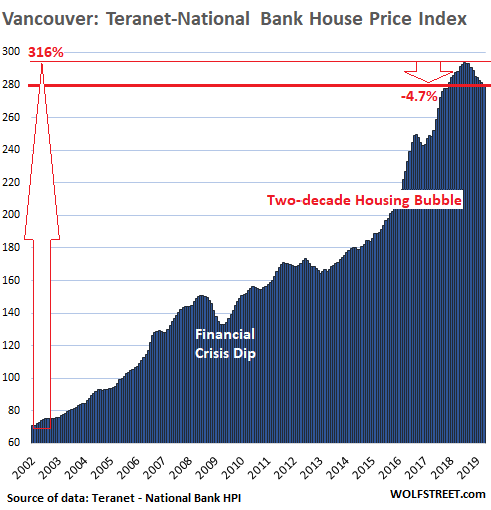 The Teranet-National Bank House Price Index tracks single-family house prices, based on "sales pairs," comparing the sales price of a house in the current month to the last sale of the same house years earlier (methodology). Using "sales pairs" eliminates the issues that affect median and average price indices but has its own limitations. These median and average house prices, which are much more volatile, are now showing much sharper price declines for Vancouver.
Because the Teranet index uses a similar methodology of "sales pairs" as the S&P CoreLogic Case Shiller index for US housing markets, the indices produce comparable metrics. So let's compare Vancouver's housing bubble to the also deflating housing bubble in the San Francisco Bay Area. Splendid v. Splendid. The chart below shows the data of Vancouver (black columns) and San Francisco (red columns), with both indices converted into "percent change from January 2002."
As the chart above shows, Vancouver's housing market dipped briefly during the Financial Crisis while San Francisco's market went into a hard four-year downturn, as the US housing bust morphed into the Mortgage Crisis that contributed to the Financial Crisis.
…click on the above link to read the rest of the article…