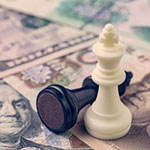 President Trump shocked markets yesterday when he announced that a new, heavy round of tariffs on Chinese goods will take effect this Friday. Complacent markets had assumed that a trade deal would get done, that it was just a matter of sorting out the details. Now that is far from certain. Failing a last minute deal, which is certainly possible, the trade war is back. And it could get worse.
What most surprised me about the new trade war was not that it started, but that the mainstream financial media denied it was happening for so long. The media have consistently denied the impact of this trade war. Early headlines said that Trump was bluffing and would not follow through on the tariffs. He did. Later headlines said that China was just trying to save face and would not retaliate. They did.
Today the story line has been that the trade war will not have a large impact on macroeconomic growth. It will. The mainstream media have been wrong in their analysis at every stage of this trade war. And it did not see this latest salvo coming.
The bottom line is that the trade war is here, it's highly impactful and it could get worse. The sooner investors and policymakers internalize that reality, the better off they'll be.
For years I've been warning my readers that a global trade war was likely in the wake of the currency wars. This forecast seemed like a stretch to many. But it wasn't.
I said it would simply be a replay of the sequence that prevailed from 1921–39 as the original currency war started by Weimar Germany morphed into trade wars started by the United States and finally shooting wars started by Japan in Asia and Germany in Europe.
…click on the above link to read the rest of the article…