When the TBAC published the minutes to its quarterly refunding decision two weeks ago, the most interesting part of the discussion was the "unique challenges" faced by the Treasury over the medium term, especially the possibility of significant financing gap over next 10 years amounting to over $12 trillion and the potential need for more domestic investor participation if foreign reserve growth slows.
Here, among other things (which potentially include the Green New Deal, with its $6+ trillion cost) the TBAC cautioned that the Treasury's financing needs are expected to increase significantly even without factoring in recession possibilities over the next decade. The TBAC warned that deficits to the tune of $1-$1.5trn a year, and cumulatively over $12trn, over the next decade, are coming and will have to be funded in the bond market. Meanwhile, the CBO stubbornly refuses to forecast a recession during the next decade, instead projecting a steady 1.5-2% real GDP growth over the next 10y. While the TBAC did not take a position on this laughable assumption, it warned that deficits typically rise 2-5% of GDP in recessions, which would translate to additional deficits of $0.5-1trn at current GDP levels, and warns that "these borrowing needs have to financed in the context of already high global dollar debt exposure."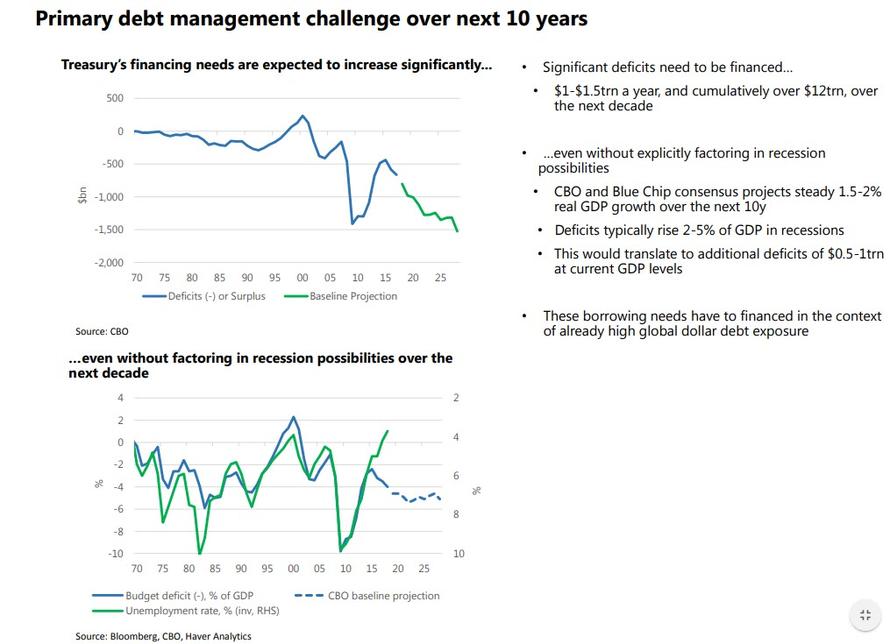 But the bigger problem is that in the context of soaring deficit funding needs, the TBAC is also increasingly worried that "foreign investors already hold significant dollar debt" which is why the US will have to increasingly rely on domestic savings to fund its future budget deficits.
And here the TBAC made a surprising, tongue-in-cheek observation, namely that reserve managers have been very gradually increasing allocation to other currencies, and that the USD share of FX reserves has steadily come down from 72% in 2000 to 62% now even though the "USD is still the dominant reserve currency."
 …click on the above link to read the rest of the article…