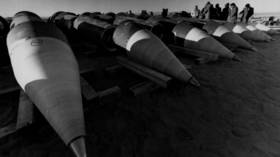 © Getty Images / Denver Post
In a flash, the US has scrapped the 1987 Intermediate-Range Nuclear Forces (INF) Treaty, which safeguarded Europe and the world from a deadly US-Russia arms race. This is particularly bad news for Europeans.
Russia must be feeling a lot like the Native Indians these days with regards to treaties signed with the duplicitous Americans. For the second time in as many decades, the US has gone back on its word, removing another pillar from the global arms reduction architecture.
The Trump administration, in its infinite wisdom, announced on the weekend it would freeze US participation in the INF "for 180 days," which, from a military perspective, must be interpreted to mean forever. In the spirit of reciprocity, Vladimir Putin, expressing regret that Russia "could not save" the Cold War treaty, said he would be forced to follow suit.
The Russian leader emphasized, however, that Moscow would not deploy intermediate or smaller range weapons "until the same type of American weapons" were placed in Europe or elsewhere in the world.
This latest ratcheting up of tensions between Moscow and Washington was wholly avoidable – that is, if avoiding confrontation is a goal of the US. Clearly, it is not. The unpredictable hotheads now dictating foreign policy in the Trump administration, particularly National Security Advisor John Bolton, a veteran hawk who the Washington Post recently calleda "serial arms control killer," have somehow concluded that playing a game of nuclear chicken on the European continent with Russia is the best way to resolve bilateral issues.
The White House appears to be incensed over Russia's upgrade of a cruise missile, the '9M729', which it claims exceeds the 500-km flight threshold set down by the treaty. The INF treaty specifically banned the development, deployment, and testing of ground-based missiles with a range between 500km and 5,500km (310-3,400 miles).
 …click on the above link to read the rest of the article…