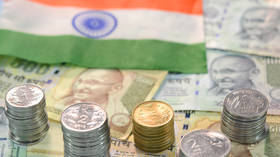 In an effort to circumvent US-imposed sanctions, India and Iran have reportedly ditched the US dollar and are trading oil in rupees. The reason becomes clear after considering the dynamics at play in the region.
In mid-February last year, Iranian President Hassan Rouhani visited India, and the two countries signed nine agreements signalling a strengthening of ties. Indian Prime Minister Narendra Modi appeared to celebrate the growing relationship, stating that it was "a matter of great pleasure" for India that an Iranian president came to India "after a gap of 10 years."
Fast-forward a few months later, and then-UN ambassador Nikki Haley was bluntly telling India that they should rethink their relationship with Tehran.
Donald Trump's decision to rip up the Joint Comprehensive Plan of Action (JCPOA) last year, also known as the Iranian nuclear accord, was a particularly significant blow to Iran-India relations. At the time the JCPOA was formulated, Indian officials believed the deal to be the "best deal available." After the JCPOA's implementation in 2016, exports of Iranian oil to India increased by more than 110 percent.
Maybe the issue isn't always that Washington wants to contain its rivals in the Middle East and Asia, but perhaps there is a chance that it also wants to keep a lid on its so-called allies as well. Right now, India is the third largest oil consumer in the world, and is expected to become the largest by the year 2040. As its domestic reserves are not meeting the needs of its rapidly expanding economy, India has been importing 80 percent of its oil supply from overseas, including and especially Iran.
…click on the above link to read the rest of the article…