RCMP raids in Wet'suwet'en territory can't bring justice, reconciliation or a better future, Neskonlith chief says.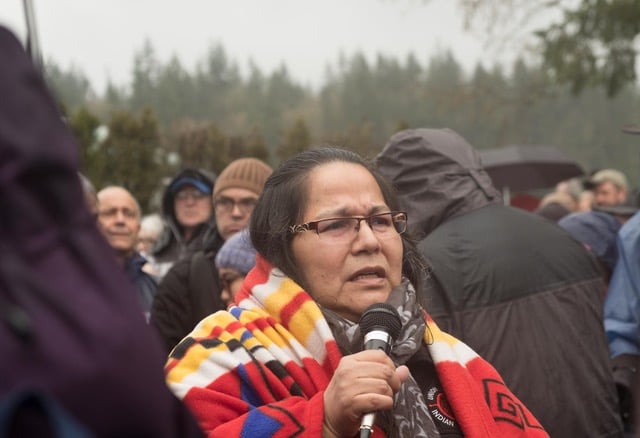 The Tyee reached out to Wilson to talk about RCMP action against pipeline protesters in the Wet'suwet'en nation in northwest B.C. because of her extensive involvement with government and industries and her long history of environmental advocacy. The interview has been lightly edited for length and clarity.
What are your thoughts on how governments are responding to the RCMP action in the Wet'suwet'en territory?
I was just reading Premier [John] Horgan's response to the Unist'ot'en, and I think he was trying to stay on the middle ground. He mentioned the bands who signed these agreements [to allow the pipeline], but to me, the issue is clearly about the hereditary Wet'suwet'en chiefs. They are the proper titleholders to their unceded territory, and they already made a decision. They said no pipelines in their territory.
As for Trudeau, I don't think he's really responded. It's concerning that on one hand he talks about truth and reconciliation, he talks about implementing UNDRIP [the United Nations Declaration on the Rights of Indigenous People] and has supported Bill C-262, which is about implementation — and then he's using forceful, militarized RCMP to remove people and arrest them at Unist'ot'en and Wet'suwet'en territory. He's speaking contradictorily, and he's actually in violation of some of the conventions that he signed at the United Nations.
You called for Canadians to 'stand with land defenders.' How can they do that?
…click on the above link to read the rest of the article…