Central banks have guaranteed a bubble collapse is the only possible output of the system they've created.
The psychology of blowoff tops in asset bubbles is fascinating: let's start with the first requirement of a move qualifying as a blowoff top, which is the vast majority of participants deny the move is a blowoff top.
Exhibit 1: a chart of the Dow Jones Industrial Average (DJ-30):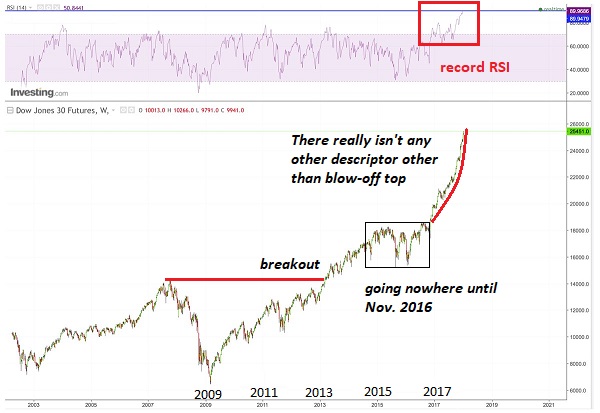 Is there any other description of this parabolic ascent other than "blowoff top" that isn't absurdly misleading? Can anyone claim this is just a typical Bull market? There is nothing even remotely typical about the record RSI (relative strength index), record Bull-Bear ratio, and so on, especially after a near-record run of 9 years.
The few who do grudgingly acknowledge this parabolic move might be a blowoff top are positive that it has many more months to run. This is the second requirement of qualifying as a blowoff top: the widespread confidence that the Bull advance has years more to run, and if not years, then many months.
In the 1999 dot-com blowoff top, participants believed the Internet would grow at phenomenal rates for years to come, and thus the parabolic move higher was fully rational.
In the housing bubble's 2006-07 blowoff top, a variety of justifications of soaring valuations and frantic flipping were accepted as self-evident.
In the present blowoff top, the received wisdom holds that global growth is just getting started, and corporate profits will soar in 2018. Therefore current sky-high valuations are not just rational, they clearly have plenty of room to rise much higher.
…click on the above link to read the rest of the article…