Even from Japan – whose export producer prices are soaring.
The oil price collapse that started in 2014 pushed down input costs that companies – the "producers" – faced. And producer price indices, which measure inflation further up the pipeline, plunged. But this is over. And the biggest export powerhouses in Asia that have ballooning trade surpluses with the US, show how.
The Producer Price Index in Japan – the "Corporate Goods Price Index," as it's called there – jumped 3.4% in October compared to a year ago, after already climbing an upwardly revised 3.1% in September, the Bank of Japan reported on November 13. It was the tenth month in a row of year-over-year gains and the highest annual rate since September 2014, by which time the collapsing energy prices were mopping up any inflationary pressures (chart via Trading Economics):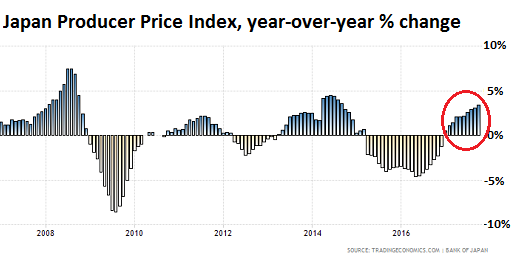 On a monthly basis, the index rose 0.3% from September. But excluding "extra charges for summer electricity," the index jumped 0.6% month-over-month.
The biggest movers: Nonferrous metals prices soared 22.4% year-over-year, petroleum and coal products 15.8%, iron and steel 9.7%, and chemicals and related products 3.6%.
On the negative side of the ledger there wasn't much activity: prices for electrical machinery and equipment edged down -1.1%, for business oriented machinery -0.4%, and production machinery -0.3%.
Export prices in October jumped 9.7% year-over-year in yen terms and 3.8% in contract-currency terms. Export prices of Metals and related products soared 25.8% in yen terms and 17.7% in contract-currency terms. Chemical and related produces soared 16.3% and 11.8% respectively. Other primary products and manufactured goods prices jumped 10.3% and 4.2%. All three of them soared in double-digit percentages just from September!
Japan has exported $101 billion in goods to the US so far this year.
…click on the above link to read the rest of the article…