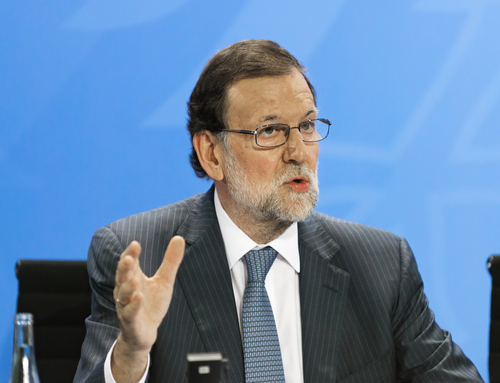 The Spanish Prime Minister, Mariano Rajoy who is becoming a disgrace to the image of a free society,
The Catalan supporters are now occupying poll points to protect their right to vote, while Rajoy has now blocked airspace over Barcelona as he wants to prevent the referendum in Catalonia by all means.
Rajoy had his puppet Spanish Supreme Court order that Google had to delete an app that had been used by the operators of the referendum to communicate with each other. The corrupt Spanish court ruled that the "On Votar 1-Oct" application on the Google Play smartphone app shop violated the ban imposed by Spain to conduct the referendum. Rajoy is totally out of control and is illustrating everything that is wrong about the EU and how it claims to stand for human right with the refugees but crushes anyon Europe who disagrees with the politic elite.
The vote will take place in a total of 2,155 polling stations. The government has shut down airspace to prevent others from flying into Barcelona to join the protests.
The Rajoy's judiciary has also initiated investigations against more than 700 Catalan mayors, who support the independence referendum. The Regional Parliament had passed a bill in Barcelona in early September, which freed the way for the popular decision. The government in Barcelona had originally declared that if the independence won a majority, they would decline independence in 48 hours.
Canada allowed Quebec to vote of separatism TWICE. Even Britain allowed Scotland to vote on separation from the UK. Spain is showing the world that it is still a fascist state true to heart – not a democratic state. This raises serious concerns about foreign investment into Spain. If the government changes its position, you will find that country risk overpowers investment opportunity. BEWARE!