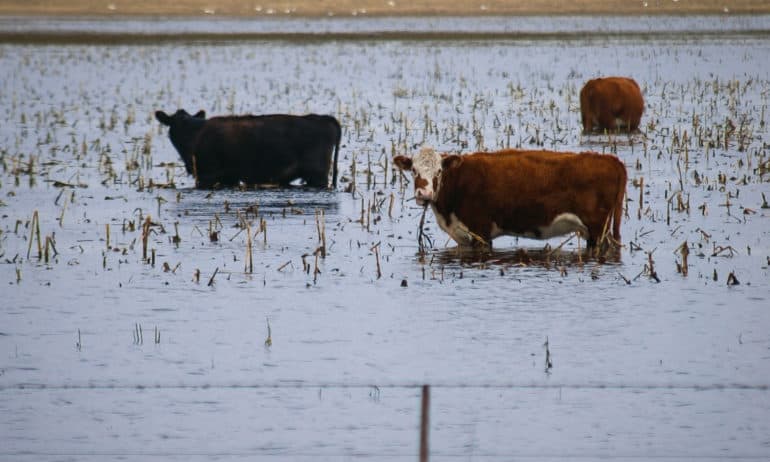 Hurricane Harvey, the most powerful hurricane to hit the United States in more than a decade, is expected to have a significant impact on Texan farmers, ranchers, and Texas's agricultural export industry. With
more than 50 inches
of total rainfall already recorded, water damage to grain and vegetable crops, food warehouses, and transportation routes has begun to affect the food supply. Food and water can easily become
contaminated by floodwaters
or spoiled after a power outage, with potentially hazardous impacts on public health.
"I can't think of a crop that is designed to handle four feet of rain in a short period of time," Mike Steenhoek, Executive Director of the Soy Transportation Coalition, told CNBC.
Texas is the nation's largest producer of cattle and cotton and is responsible for exporting almost one-fourth of the nation's wheat and a significant portion of U.S. corn and soybeans. Texas ranchers have been forced to relocate cattle to higher ground, yet there are concerns about access to feed and fresh water as well as exposure to disease and predators. Some ranchers, however, are currently unable to access and move their livestock.
"It's been difficult for ranchers in the area to get onto the pastures and assess damage because some roads are impassable and it's still raining," Jeremy Fuchs, spokesman for the Texas and Southwestern Cattle Raisers Association, told Bloomberg.
State and industry officials are currently unable to provide official numbers on estimated killed or injured livestock, but a recent update from the South Texas Cotton and Grain Association predicts crop losses in the state could reach up to US$150 million, potentially more.
The Texas Department of Agriculture (TDA) said in a statement that cotton farmers were some of the hardest-hit agricultural producers, with hundreds of cotton modules blown apart by gale-force winds and many more lying wet in fields.
…click on the above link to read the rest of the article…