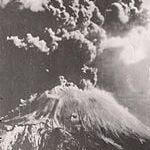 "Injustice, swift, erect, and unconfin'd,
Sweeps the wide earth, and tramples o'er mankind" – Homer, The Iliad
When Mount Vesuvius Blew
Everything was just the way it was supposed to be in Pompeii on August 24, 79 A.D.  The gods had bestowed wealth and abundance upon the inhabitants of this Roman trading town.  Things were near perfect.
The lucky residents of Pompeii lived in large homes with elegant courtyard gardens and all the modern conveniences.  Rooms were heated by hot air flowing through cavity walls and spaces under the floors.  Running water was provided to the city from a great reservoir and conveyed through underground pipelines to houses and public buildings.
Fresh fish from the Bay of Naples were readily available in the Macellum (great food market) and countless cauponae (small restaurants).  Entertainment was on hand at the large amphitheatre.  Life was agreeable, affable, and idyllic for all – and it was only getting better.  Everyone just knew it.  They could feel it.  They believed it.
By 79 A.D. Pompeii had experienced nearly uninterrupted advancement from its founding almost 700 years earlier.  That this would ever change was unthinkable.  On the morning of August 24th, who but a doomsayer would suggest there wouldn't be another 700 years of progress?
Yet, just then, when things couldn't have seemed more certain, Mount Vesuvius blew.  Nineteen hours later, where there had been life and a thriving civilization, there was silence for the next 1,669 years.
Praying for Death
Viewing events through the lens of history and hindsight is unfair to its participants.  Their missteps are too obvious, their vanities are too abundant, and their inferiorities too absurd.  They appear to be mere imbeciles on parade.
Was George Armstrong Custer really just an arrogant Lieutenant Colonel who led his men to massacre at Little Bighorn?  Maybe.  Especially when Sitting Bull, Crazy Horse, and numbers over three times his cavalry appeared across the river.
…click on the above link to read the rest of the article…