A huge force that's going to fizzle.
We have another post-Financial Crisis record on our hands!
Share buybacks by S&P 500 companies during the three-month period of February through April soared 15.1% from a year ago, to $166.3 billion, according to FactSet, the highest since Q3 2007, which had set an absolute record of $178.5 billion, just as the Financial Crisis was cracking the glossy veneer of the banks.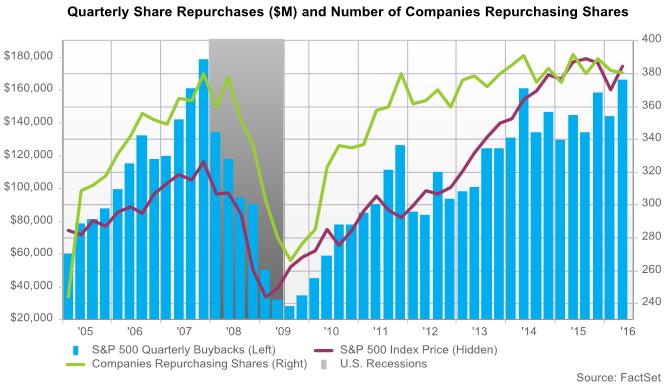 The tech sector, whose revenues have been getting hammered by reality, was the biggest spender at $34.4 billion.
The healthcare sector was second. When insurers and Big Pharma aren't busy buying each other in the ongoing mega-merger oligopoly or monopoly boom, they're buying their own shares. Buybacks over the 3-month period soared to $33.2 billion, an all-time record for the sector, blowing away its prior record of $24.5 billion.
The biggest buyback spender overall: Pfizer with $8.1 billion. It reduced its outstanding shares by 1.5% year-over-year. It was part of an existing $11-billion buyback program and a new $5-billion program that was announced to make up for debacles elsewhere, such as the collapse of its $160-billion merger with Allergan.
Gilead was the second biggest spender, more than doubling its buybacks from a year ago to $7.4 billion, which cut its shares outstanding by 8.7% year-over-year, according to FactSet. This was part of its $15 billion repurchase plan, on top of which its board approved another $12 billion.
Pfizer and Gilead combined repurchased $15.5 billion of their shares in just three months! They pushed Apple, which had dominated the list, down to third place with $7 billion in buybacks. A third healthcare company made the list of the top ten buyback-spenders: Express Scripts with $3.3 billion, up from zero a year ago.
…click on the above link to read the rest of the article…