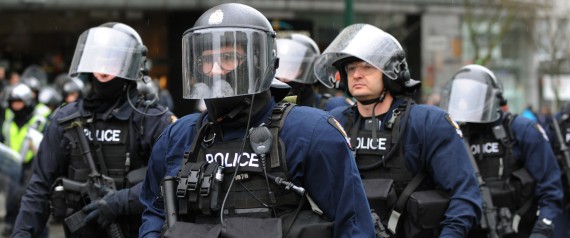 The assault rifles, produced by arms manufacturer Colt Canada for the Canadian Forces, will cost $2,500 each, and will be in patrol cars on the streets of Canada's largest city by May. Toronto becomes only the latest municipality to acquire a weapon described on its website as "battle proven in harsh combat environments."
Late last year, Winnipeg police purchased a $400,000 armoured personnel carrier. A manufacturer video promoting the 14,000-pound, blast-proof Gurka MPV tactical vehicle with eight gun ports features heavy metal music and the words "make a statement" appearing on the screen.
Indeed, I have to wonder if that's what these purchases are all about — making a bold statement about who makes the orders and who follows them.
Across Canada, local police forces are acquiring weapons and tools that are designed for military purposes, and policing is becoming increasingly militarized. The usual justification for ever more advanced weaponry is similar to Toronto Police Chief Mark Saunders' — it makes officers safer in an era of declining violent crime.
Crime in Canada is down so much that even the right-wing Fraser Institute has called for scaling back police departments.
Some local police departments receive equipment donated by the Canadian Forces. That's how Windsor, Ontario and the mean streets of New Glasgow, Nova Scotiareceived armoured tanks free of charge.
Often, one event precipitates a build-up in arsenal and resources that the police keep long after the event is over.
Toronto Police purchased a Long Range Acoustic Device for the G20 Summit in 2010. Otherwise known as a sound cannon, this weapon was developed by the U.S. military to fight Somali pirates and Iraqi insurgents. It is powerful enough to make human bones vibrate, and it was used against Canadian citizens.
…click on the above link to read the rest of the article…