It's getting downright hazardous out there, and not just because the robo-machines were slamming the "sell" key today. The real danger comes from the loose assemblage of official institutions which claim to be running the world.
They might better be referred to as "can kickers united." It is now blindly obvious that they have lapsed into empty ritualism, contrivance and double-talk in the face of a global economy and financial system that is becoming more unstable and incendiary by the day.
Who in their right mind would pile $95 billion of new debt on the busted remnants of Greece? Likewise, how can Japan possibly consider enacting still another round of fiscal stimulus when it already has one quadrillion yen of debt? And what geniuses are trying to fix the bankrupt finances of China's local governments by swapping trillions of crushing bank loans for equivalent mountains of new municipal bonds?
Turning to the the home front it is more of the same. By what rational calculus can it be said, as the Fed did in its meeting minutes, that 80 months of free money has not quite yet done the job?  And that is exactly what these mountebanks had to say:
The Committee concluded that, although it had seen further progress, the economic conditions warranting an increase in the target range for the federal funds rate had not yet been met.Members generally agreed that additional information on the outlook would be necessary before deciding to implement an increase in the target range.
Say again!  We are now 74 months into a so-called "recovery" cycle that is well longer than the post-war average, yet the Fed is still manning the emergency fire hoses: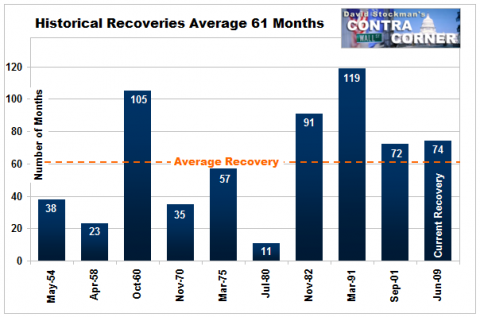 Even its own research department at the St. Louis Fed has just confessed that the whole rigmarole of QE and ZIRP has had no favorable impact on the main street economy. 
…click on the above link to read the rest of the article…