Home » Posts tagged 'Truman Show'
Tag Archives:
Truman Show

Henri Rousseau The Flamingoes 1907
Had a little email exchange with Dave Collum this week. We go way back, more than two weeks even. It's been a while though, Twitter cut me off from Dave's tweets ages ago for some reason, and that's just one person I know they did that with; how many others, no clue. My Twitter followers, @AutomaticEarth, have been just below the same certain number for years.
Regularly a few hundred are shaved off, and then they slowly revert back to just below that number. I don't even care anymore. No more than I care about Facebook shutting down our account without any explanation. Let them be. We should not depend on these people, that's just a bad idea.
Anyway, so Dave was reacting to a mail I sent him of the October 26 Debt Rattle -he's always remained on one of my mailing lists- and that's how we started talking again. Dave:
I have never spent a year so completely baffled by the world as this year. Nothing makes sense to me without invoking some seriously bizarre thinking (which I am not averse to doing.)
My reaction:
The game hasn't even started yet. We're still just warming up. Still, baseball is not the right analogy, that's a civilized sport, this will feel much more like gladiators in the Forum fighting to the death. Biden has neither the energy not the -killer- instinct for that.
Yes, Dave, like Jim Kunstler, and like me, and many other people, have changed our views and positions on American politics quite a bit over the past 4-5 years. Mostly independently of each other. We just recognize the same patterns. I think it's fair to say that we all realize that there may be a million things wrong with Donald Trump, but there's a lot more wrong with collusion to unseat a fairly elected president.
…click on the above link to read the rest of the article…
"What Huxley teaches is that in the age of advanced technology, spiritual devastation is more likely to come from an enemy with a smiling face than from one whose countenance exudes suspicion and hate. In the Huxleyan prophecy, Big Brother does not watch us, by his choice. We watch him, by ours. There is no need for wardens or gates or Ministries of Truth.
When a population becomes distracted by trivia, when cultural life is redefined as a perpetual round of entertainments, when serious public conversation becomes a form of baby-talk, when, in short, a people become an audience and their public business a vaudeville act, then a nation finds itself at risk; a culture-death is a clear possibility." ― Neil Postman, Amusing Ourselves to Death: Public Discourse in the Age of Show Business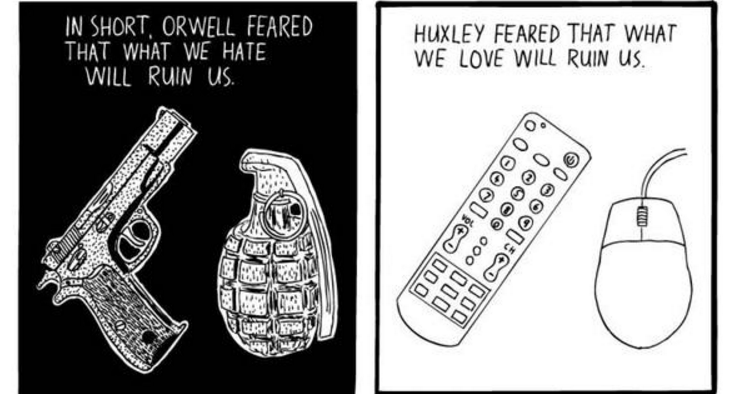 Something as mundane as using the restroom at work sometimes ends up triggering deeper thoughts about technology – its benefits, deficiencies and danger to our culture. I've been using the same restroom at work for the last twelve years. They remodeled the restroom a few years ago with the latest technology – automatic flushers, automatic soap dispensers, automatic spigots, and automatic towel dispenser. This technology is supposed to make things better, but from my perspective the technology just added complexity, glitches and unnecessary complications.
First off, these technological "improvements" did not eliminate any humans from the equation. The housekeepers responsible for the restrooms continued to be employed. Prior to the remodel they would fill a metal bin with individual paper towels and fill the soap dispenser with liquid soap. Now they have to insert a roll of paper towels in the electronic dispenser and a cartridge of soap in the electronic soap dispenser.
…click on the above link to read the rest of the article…