Home » Posts tagged 'supply chain crisis'
Tag Archives:
supply chain crisis
#BareShelvesBiden Trends As Alarming Number Of People Report Empty Stores
Before Christmas eve, President Biden declared his administration's efforts to eliminate supply-chain bottlenecks ahead of the holiday season had succeeded. Ten days into the new year, we can firmly say that is not the case.
The hashtag "BareShelvesBiden" has been trending on Twitter for the last 24 hours. The hashtag ranked on Twitter's most trending list as of late Sunday evening.
Even though Biden has pointed to the administration's progress in restoring supply chains by pushing for round-the-clock port operations at the nation's biggest ports, including the Ports of Los Angeles and Long Beach, it appears supply chains remain snarled, and there's no clear sign on when they will be alleviated.
We found out over the weekend that port congestion was quickly spreading to New York City's container port.
While supermarket shelves go bare, once again, Biden's job approval rating continues to sink. People are dissatisfied with unbearable shelter, housing, energy, and food inflation.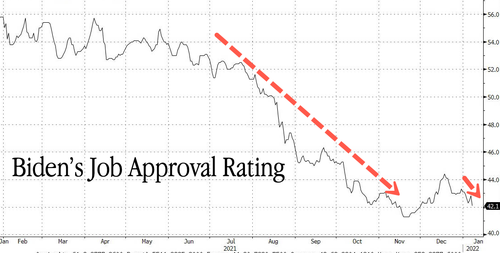 The Biden administration can tout all they want about fixing supply chains, but in actuality, they're still snarled, and people are waking up to the fact that American continues to descend into a state no different than a third world country.
Comment: This is a Whole Foods in a high to middle income suburb in the northeast on January 4, 2022. I live near numerous ports from NJ, PA, to NY. I have lived here my whole life and have never seen the aisles this bare. When corona began the essentials were missing from shelves but now they are completely bare. Did JB completely ruin America?
Reply: The snowfall in the north has only exacerbated the supply chain and food crisis. The ports up north are not what they once were, and perhaps I will elaborate on that in a separate post. Regardless, the shelves should never appear that empty. I too lived in the north for many years, and even amid snowstorms, there was more food available than what I am seeing in your pictures.
It is a global problem, but the Biden Administration is undoubtedly making matters worse. Forced vaccinations, trucker/labor shortages, inflation denial, and increased shipping costs are all contributing to the diminished supply of available goods. Additionally, farmers in the US (and elsewhere) noted that food prices will rise in 2022. Unfortunately, 40% of our exports come in from California, where Governor Newsom has imposed laws to ensure a depleted supply chain for the rest of the country.
Winter weather is now coming into play as a new variable exacerbating the supply chain. As I warned years ago, stock up while you can.