Home » Posts tagged 'stock board asset'
Tag Archives:
stock board asset
According to The National Association for Amateur Radio (ARRL), elements of the US Department of Defense (DOD) will simulate a  "communications interoperability" training exercise across the United States on November 04-06. The announcement released on October 24 has not been widely distributed to the media, because the drill is simulating a total grid collapse and could spark public fear.
Explained by Army MARS Program Manager Paul English,
"This exercise will begin with a national massive coronal mass ejectionevent which will impact the national power grid as well as all forms of traditional communication, including landline telephone, cellphone, satellite, and Internet connectivity,"
In July, we warned about the US government quietly preparing for a massive coronal mass ejection with the passage of an Executive Order— "Coordinating Efforts to Prepare the Nation for Space Weather Events".
Here is snippet of section 1 of the executive order:   
Space weather events, in the form of solar flares, solar energetic particles, and geomagnetic disturbances, occur regularly, some with measurable effects on critical infrastructure systems and technologies, such as the Global Positioning System (GPS), satellite operations and communication, aviation, and the electrical power grid. Extreme space weather events — those that could significantly degrade critical infrastructure — could disable large portions of the electrical power grid, resulting in cascading failures that would affect key services such as water supply, healthcare, and transportation. Space weather has the potential to simultaneously affect and disrupt health and safety across entire continents. Successfully preparing for space weather events is an all-of-nation endeavor that requires partnerships across governments, emergency managers, academia, the media, the insurance industry, non-profits, and the private sector.
…click on the above link to read the rest of the article…
Unless used for capital improvements, any new Illinois State borrowing, regardless of security structure, will amount to nothing more than kicking the can further down the road.
Markets remain open to uncreditworthy government borrows longer than they should. In a low interest rate environment, investors will stretch credit standards.
Benchmark bond ratings are at variance with the rating agencies.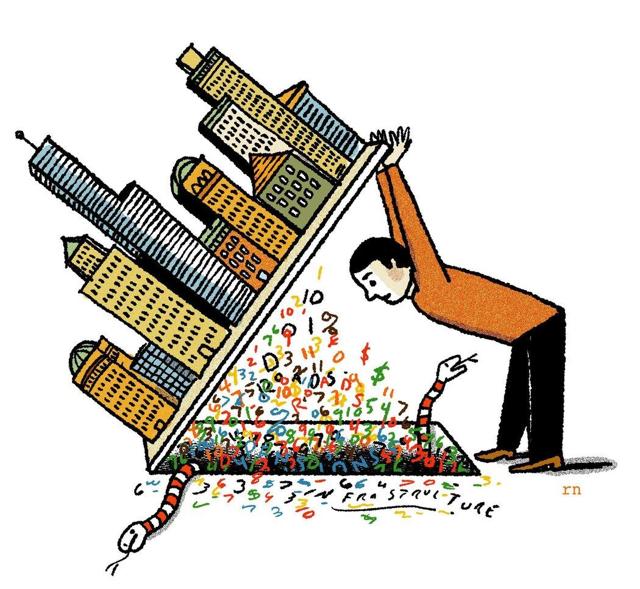 Everyone knows Illinois' financial condition is poor. Conventional thinking seems to be that a bond default, should that happen, would be many years in the future. Pardon me, but wasn't that the thinking right up to Puerto Rico's, "We can't pay" announcement? To answer the question of just how badly off is Illinois, I assembled a list of key creditworthiness indicators and applied them to New York, a highly rated state, and Illinois.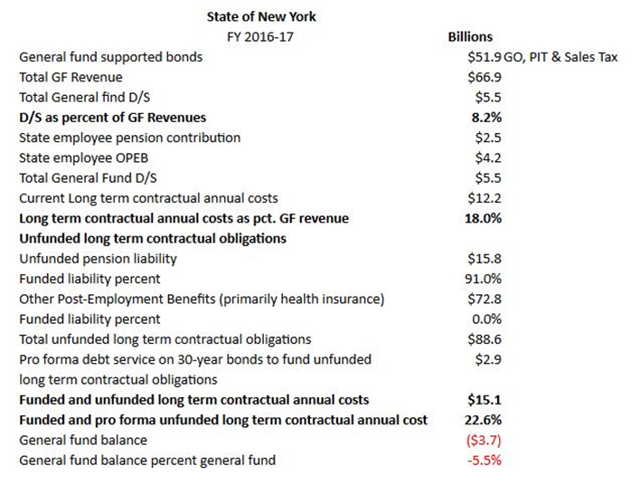 COMMENTARY AND BENCHMARK PRIVATE BOND RATINGS
The State of New York is managing its financial resources and obligations in a better-than-average manner. Particularly, the State's employee pensions are reported to be 90% funded, but the general fund deficit must be contained and then eliminated. Unfunded OPEB costs are too high and can be renegotiated. Funded and pro forma unfunded long-term contractual obligations equaled 23% of general fund revenue in FY ended June 30, 2017, and exceeds the 15% threshold for a Benchmark AA or AA+ credit rating.
*Both NYS income tax and sales tax bonds are payable from annual general fund appropriation. For additional information, click here.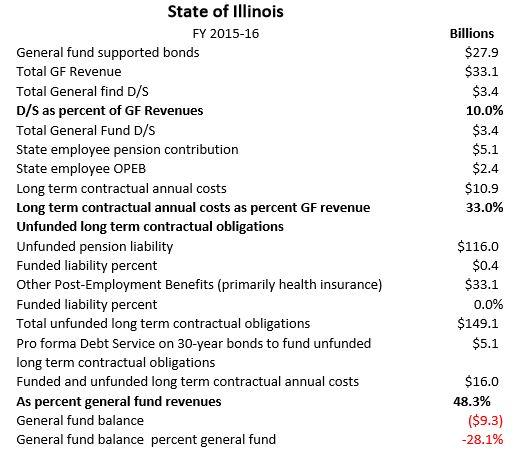 COMMENTARY AND BENCHMARK PRIVATE BOND RATINGS
The State of Illinois, in my opinion, is past the point of no return. It does not have the ability to raise taxes or cut spending to the degree necessary to reduce the annual cost of bond and retiree benefits from 33% to a sustainable level. The amount of debt issued by Illinois requires a moderate 8% of general fund revenues to pay P&I.
…click on the above link to read the rest of the article…
Hurricane Irma is one of the most powerful Atlantic Cat-5 hurricanes ever, barreling towards Florida with 175mph winds moving West North West at 16mph. The National Hurricane Center is now forecasting Irma will make Florida landfall as a 'major hurricane' (wind speed greater than 110mph) on Sunday morning at 8am.
Infrastructure in Florida is the backbone of the economy. The American Society of Civil Engineers released Florida's 2016 Report Card with a rating of "C". That means the overall health of the state's infrastructure is "mediocre".
Here is the concerning part. Coastal areas and stormwater systems are in very poor condition—under preforming with "D" ratings. With Irma's potential impact on Sunday this could be cataphatic for flood zones when considering the intensity of the storm.
Coastal area report card D+, 
Florida's economy relies heavily on its 825 miles of sandy beaches, the state's "invisible" coastal infrastructure that protects Florida's communities from storm damage. Florida beaches are also significant to the economy as the number of beachgoers yearly is more than double the number of visitors to all U.S. parks combined. Unfortunately, nearly 61% of Florida's sandy beaches (503.8 miles) are eroding. Beaches and inlets require ongoing maintenance to fight erosion. Developing and applying local and regional beach management strategies has proven essential to decreasing the risk exposure in coastal areas and providing storm damage reduction benefits, such as protection of power plants adjacent to the coast. However, over the last 10 years, the average difference between requested and state appropriated funds exceeded $40 million per year.
Stomwater systems report card D,
…click on the above link to read the rest of the article…