Whether it's a natural disaster, bioterrorist attack or pandemic, experts reckon society as we know it will collapse within 13 days of a catastrophic event. So what do you do next?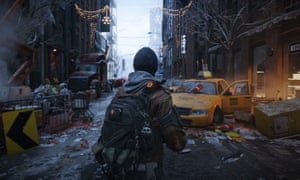 Ubisoft's role-playing shooter The Division wouldn't be as much fun if players followed Nafeez Ahmed's advice and stayed rural.
Photograph: Ubisoft
On 22 June, 2001, Tara O'Toole and Thomas Inglesby of the Johns Hopkins Center for Civilian Biodefense Strategies, organised a war game like no other. The two researchers, working with an array of bodies such as the ANSER Institute for Homeland Security, set out to simulate the effects of a biological attack on the US. The project was called Operation Dark Winter.
What they discovered was that the country was ill prepared to cope. Within two weeks there would be enormous civilian casualties, a catastrophic breakdown in essential institutions, and mass civil unrest. Food supplies, electricity and transport infrastructures would all collapse.
In short, the world would get medieval on America's ass. And the same thing would happen all over the globe.
These days we're spoiled for choice in terms of potential catastrophes. Natural and ecological disasters, nuclear weapons, terrorism, experimental technological accidents ("Oops, we've accidentally created Skynet") – they're all in the game. In 2008 a group of experts met at an Oxford University conference and suggested that there was a 19% chance of a global catastrophic event before 2100 (with super intelligent AI and molecular nanotechnology weapons at the top of the threat list). It was just a bit of fun, and they added plenty of caveats to that figure, but still, something to think about, eh?
With all this in mind, the Guardian spoke to the academic and author Nafeez Ahmed, who has studied global crises and mass violence, and recently advised Ubisoft on the authenticity of its post-pandemic video game, The Division.
…click on the above link to read the rest of the article…