Home » Posts tagged 'PORTFOLIO ARMOR'
Tag Archives:
PORTFOLIO ARMOR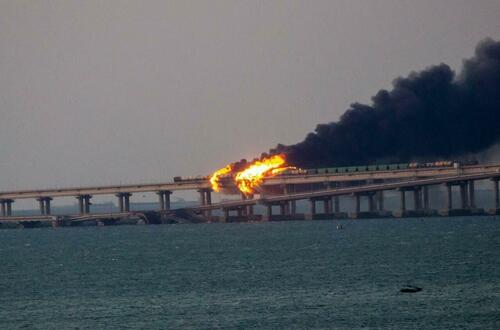 A Major Escalation In The Ukraine War
The Kerch Strait bridge was the only bridge connecting the Crimea peninsula to mainland Russia.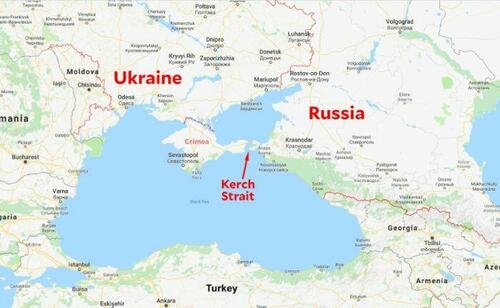 Early on Saturday, the bridge was attacked, by what appears to have been a suicide truck bomb.
According to early photos, the damaged appeared to be extensive, with an automobile span broken and sunk into the water, and the rail span above in flames.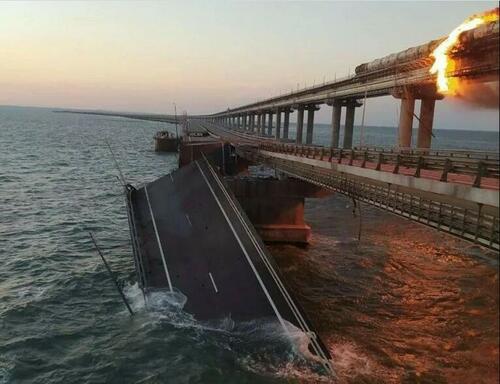 As Elon Musk noted in his proposal to end the Ukraine War (and possibly prevent a nuclear war), Crimea had been part of Russia since 1783, until Soviet Premier Nikita Khrushchev transferred it to the Ukrainian Soviet Republic from the Russian Soviet Republic. Crimea's port city of Sebastopol has also historically been the home port of Russia's Black Sea Fleet, and is populated by primarily by ethnic Russians. It was re-annexed by Russia in 2014, after a U.S.-supported color revolution deposed Ukrainian President Viktor Yanukovych, who had agreed to extend Russia's lease on the naval base at Sebastopol.
If, as seems likely, this was a Ukrainian attack (In August, one of President Zelensky's advisors vowed that they would attack the bridge), it represents a major escalation in the war, and comes on the heels of the U.S. Government acknowledging that the Ukrainian government was behind the assassination of Daria Dugina in Russia.
Oleg Morozov, deputy of the State Duma from ruling United Russia party, told RIA Novosty that the attack on the bridge was an act of "terrorist war":
An undisguised terrorist war is being waged against us. Moreover, the long-announced terrorist attack on the Crimean bridge is no longer just a challenge, it is a declaration of war without rules

Google translation via RIA Novosty
…click on the above link to read the rest of the article…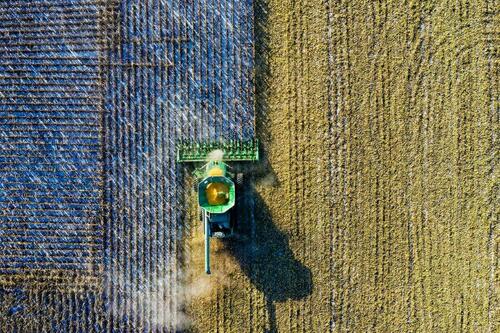 Higher Food Prices And Shortages?
Our system has been betting on higher food prices since earlier this year, and of course the war in Ukraine has put upward pressure on food an energy. But now one of our Twitter correspondents warns we may have food shortages in America as well. Let's start with the case for higher prices, then consider his warning of shortages and what to do about them.
Betting On Higher Food And Energy Prices
A month before Russia's invasion of Ukraine, our system's top names had shifted to an energy and food focus, as we noted in a post here at the time (Why Civilizations Collapse).
In that post, we noted we had two oil E&P stocks (Laredo Petroleum (LPI) and Antero Resources (AR)), two oil ETFs (ProShares Ultra Bloomberg Crude Oil (UCO) and VanEck Vectors Oil Services (OIH)), and a coffee ETN (iPath Series B Bloomberg Subindex Total Return (JO)) and a corn ETF (Teucrium Corn Fund (CORN)) in our top ten names.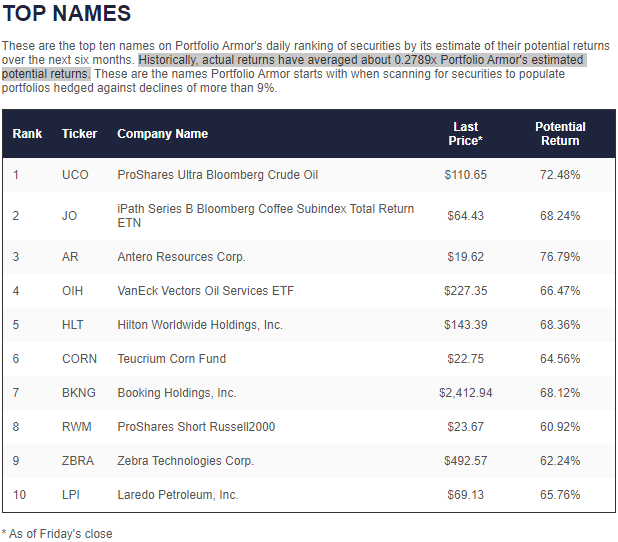 Screen capture via the Portfolio Armor on 1/28/2022.
Since then, the energy and corn names have ripped higher (though coffee has cooled off a bit).
Of course, Russia's invasion of Ukraine has played a role here. In addition to being one of the world's top exporters of wheat (along with Ukraine), Russia is also one of the top exporters of agricultural inputs such as oil, natural gas, and fertilizer. The war, plus the sanctions regime in response to it, have raised food and energy prices and raised the prospect of food shortages in countries such as Egypt, which are dependent on wheat imports. America, as an agricultural superpower, seemed less likely to suffer food shortages.
…click on the above link to read the rest of the article…