Home » Posts tagged 'oil price plunge'
Tag Archives:
oil price plunge
"It's an election about who will protect our economy in a period of ongoing global instability," Stephen Harper, Prime Minister of Canada, announced on Sunday as he officially kicked off the campaign for the federal elections on October 19. He'd just asked Governor General David Johnston to dissolve Parliament.
"Now is not the time for the kind of risky economic schemes that are doing so much damage elsewhere in the world," he said. "It is time to stay the course and stick to our plan."
Stay what course, exactly? Because Canada is likely in the middle of at least a "technical recession."
At first, there was hope that only the oil patch would be headed that way. Now the oil patch is already there. In the city of Calgary, Alberta, the epicenter of the oil bust, home sales plunged 14% in July year-over-year, according to the Calgary Real Estate Board (CREB). Year-to-date, homes sales are down 25%.
Despite months of assurances that the oil bust and the broader commodities rout won't spread into the rest of the Canadian economy, they're now beautifully spreading into it.
The Business Barometer Index of small business confidence dropped in July to 58.2, the worst level since mid-2009, a level that corresponds with a shrinking economy. "One normally sees an index level of between 65 and 70 when the economy is growing at its potential," the report said.
That's what Statistics Canada has been confirming for months: on Friday, it reported that GDP in May fell for a 5th month in a row.
"Much worse than the flat print expected by consensus," is how Matthieu Arseneau, a Senior Ecoomist at National Bank Financial explained the phenomenon:
…click on the above link to read the rest of the article…
Greatest oil glut in history exacts its pound of flesh.
The ugly data for oil – ugly for those who've been hoping for, and hyping, a quick rebound to Nirvana – keeps piling up. But for two months, the price of oil was immune to it, trading in a range of around $60 per barrel for the US benchmark West Texas Intermediate.
It stirred up false hopes that lured yield-desperate investors into plowing more money into the industry, which allowed companies to raise many billions in new debt and equity capital so that the permanently cash-flow-negative business model of fracking could soldier on.
But on June 24, reality did start to hit. From that day's high of $61.50 a barrel, it has been one nasty ride. Currently, WTI trades for $52.67 a barrel, after a 7.5% plunge since Thursday (Friday had only limited trading) to settle at the lowest level since April 13, down 14.4% since June 24. This is what the swoon looks like in 5-hour increments: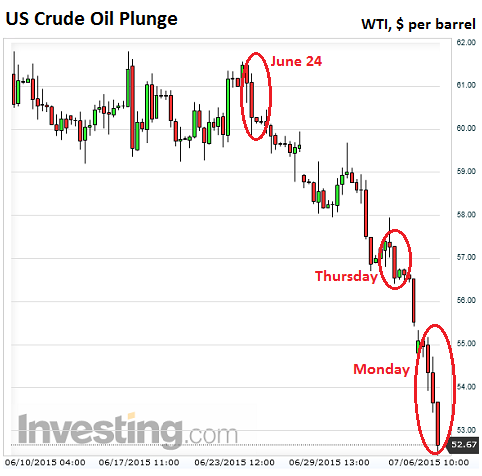 OPEC, which is furiously fighting for market share, has no intention of cutting back production. While its limit has been 30 million barrels per day (bpd), reality has been making a mockery of it. In June, production rose 170,000 bpd to 31.28 million bpd, the fourth months in a row of increases, and the highest level since August 2012, according to Platts' report released today.
While some OPEC members experienced declining production and lost market share in June, Saudi Arabia increased production to 10.35 million bpd and Iraq added a phenomenal 330,000 bpd to produce over 3 million bpd.
Output "seems to be on the way up, and at a time when the market could be looking at a lot more oil from Iran," explained Margaret McQuaile at Platts.
…click on the above link to read the rest of the article…