Home » Posts tagged 'interest payments'
Tag Archives:
interest payments
There was a shocking number in today's latest monthly US Budget Deficit report. No, it wasn't that US government outlays unexpectedly soared 15% to $646 billion in June, up almost $100 billion from a year ago…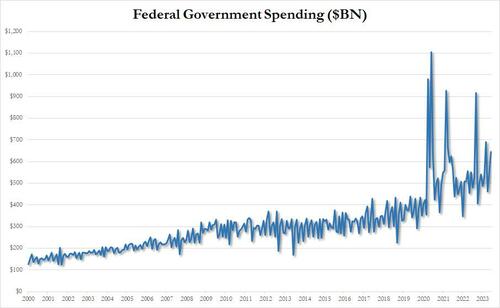 … while tax receipts slumped 9.2% from $461 billion to $418 billion, resulting in a TTM government receipt drop of over 7.3%, the biggest since June 2020 when the US was reeling from the covid lockdown recession; in fact never have before tax receipts suffered such a big drop without the US entering a recession.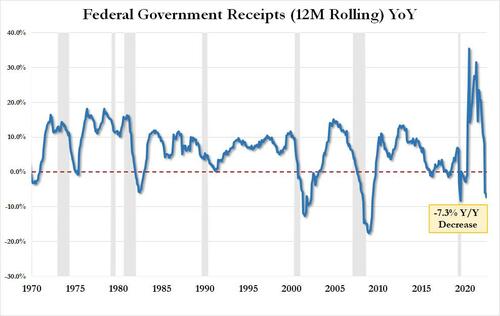 Needless to say, surging government outlays coupled with shrinking tax revenues meant that in June, the US budget deficit nearly tripled from $89 billion a year ago to $228 billion, far greater than the consensus estimate of $175 billion. One can only imagine which Ukrainian billionaire oligarch's money laundering bank account is currently enjoying the benefits of that unexpected incremental $50 billion US deficit hole: we know for a fact that the FBI will never get to the bottom of that one, since they can't even figure out who dumped a bunch of blow inside the White House – the most protected and surveilled structure in the entire world.
And with the monthly deficits coming in higher than expected and also far higher than a year ago, it is also not at all surprising that the cumulative deficit 9 months into the fiscal year is already the 3rd highest on record, surpassed only by the crisis years of 2020 and 2021: at $1.393 trillion, the fiscal 2022 YTD deficit is already up 170% compared to the same period last year.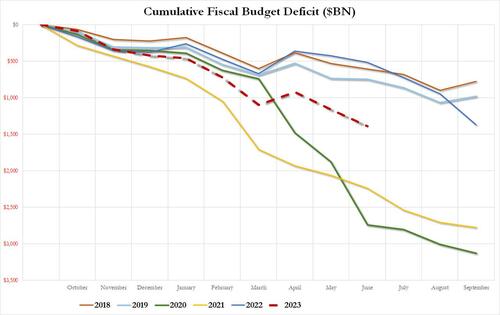 Again, while sad, none of the above numbers are surprising: they merely confirm that the US is on an ever faster-track to fiscal death, but not before the Fed is forced to monetize the debt once again…
…click on the above link to read the rest…