While the debate on the dynamics of the gold market continues, at least the top gold miners production cost provides us with a floor price.  Or rather, a basic minimum price level.  I get a good laugh when I read analysts suggesting that the gold price will fall back to $450-$700.  For the gold price to fall back to $450, then we would need to lose 95+% of global gold mine supply.
Due to two factors of rising energy prices and falling ore grades in the gold mining industry, COSTS WILL NEVER go back to where they were a decade ago.  Again, the only way for that to happen is if a large percentage of gold mine production was shut down.
Furthermore, analysts continue to wrongly forecast the gold price based mainly on gold supply and demand forces.  This is a NO-NO.  The overriding factor that has determined the gold market price has been the gold mining industry cost of production.  I proved this point by showing the increase in the gold production cost at Homestake Mining (the United States largest gold mine 1970's) from 1971-1979: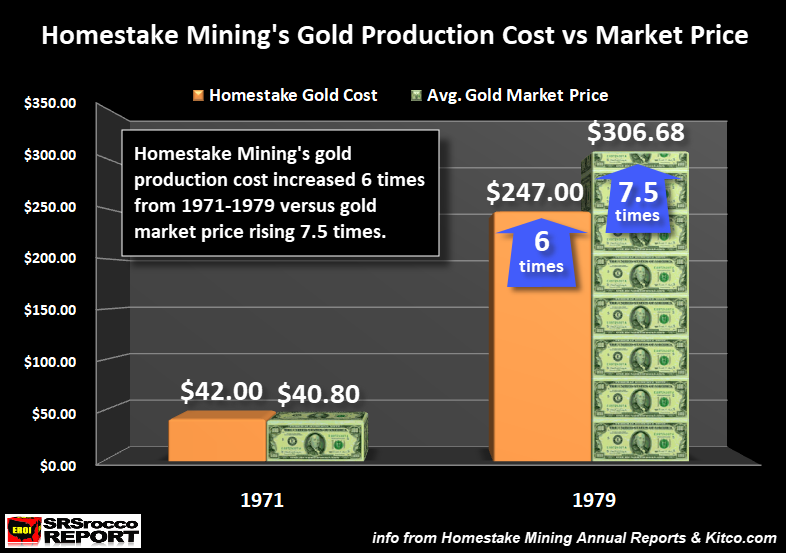 Homestake Mining was producing gold at the cost of $42 an ounce in 1971 when the average price was $40.80.  Thus, Homestake Mining lost money producing gold in 1971.  However, as energy-driven inflation ravaged throughout the economy as the price of a barrel of oil increased from $2.24 in 1971 to $31 in 1979, this impacted the cost to produce gold significantly.  By 1979, Homestake Mining's gold production cost jumped to $247 an ounce.
While it is true that the tremendous demand for gold by investors also drove the gold price to new highs in the 1970s, we can see that at least 80+% of the increase in the gold price from 1971-1979, in the case of Homestake Mining, was due to higher production costs.
…click on the above link to read the rest of the article…