Home » Posts tagged 'Generation Z'
Tag Archives:
Generation Z
Sadly, most of us will outlive our savings
The concept of 'retirement', of enjoying decades of work-free leisure in your golden years, is a relatively new construct. It's only been around for a few generations.
In fact, the current version of the relaxed, golfing/RV-touring/country club retirement lifestyle only came into being in the post-WW2 boom era — as Social Security, corporate & government pensions, cheap and plentiful energy, and extended lifespans made it possible for the masses.
But increasingly, it looks like the dream of retiring is fast falling out of reach for many of today's Baby Boomers. Most will outlive their savings (if they have any at all).
And the retirement prospects look even worse for Generations X, the Millennials, and Gen Z.
A Bad Squeeze
While the US enjoyed a wave of unprecedented prosperity throughout the 20th century, the data clearly shows that halcyon era is ending.
Real wages (i.e., nominal $ earned divided by the inflation rate) for the average American worker have hardly budged since the mid-1960s: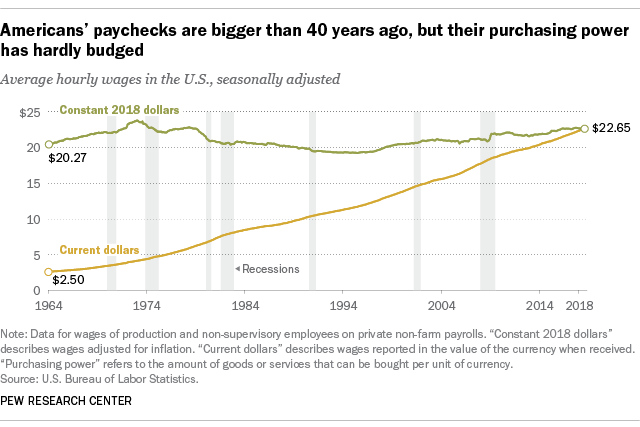 Yet the cost of living has changed dramatically over the same time period. Note how the rate of increase in the Consumer Price Index (CPI) started accelerating in the late '60s and never looked back:
Squeezed between stagnant wages and a rising living costs, perhaps it should be little surprise that so many Americans are having difficulty finding anything left over to save for retirement.
We've written about this extensively in our past reports, such as Let's Stop Fooling Ourselves: Americans Can't Afford The Future and The Great Retirement Con. But as a way of driving the point home, here are some quick sobering stats from the National Institute On Retirement Security:
The median retirement account balance among all working US adults is $0. This is true even for the cohort closest to retirement age, those 55-64 years old.
…click on the above link to read the rest of the article…
Does anyone else in your life share your concerns for the future?
Is there someone you talk with regularly about the unsustainability of our current economic and ecological trajectories?
Do you have friends and/or family members who support your efforts to develop a more resilient lifestyle?
If you answered "no" to these questions, you're not an outlier. In fact, the #1 most commonly-reported complaint we hear from Peak Prosperity readers is that they feel alone and isolated when it comes to the warnings delivered in The Crash Course.
The end of economic growth. Declining net energy. Accelerating resource depletion. These are MASSIVE existential threats to our way of life — to our species' survival, even. Most PPers can't comprehend why *everyone* isn't obessively talking about these dangers.
But very few people are. Truthfully, most don't want to; for a wide variety of reasons.
So that leaves us, the conscientious critical thinkers, alone by ourselves to worry and plan.
Does this sound like you? If so, read on…
Wired For Connection
Humans are biologically wired for social connection.
Until just recently, historically-speaking, humans typically existed in small tribal groups of 30-60 people, where the degree of unity and cohesiveness of the group directly determined its odds of survival. Facing constant adversity from the weather, predators, other tribes, etc — every member of the group had a role and a duty to perform.
We've delved into this topic deeply in the past, particularly in our podcast with Peabody Award-winning author Sebastian Junger.
In his book Tribe, Junger observes how far modern life is from the conditions our distant ancestors evolved from. We are so dis-connected from each other now that the lack of community is manifesting in alarming ways in today's society.
…click on the above link to read the rest of the article…