Home » Posts tagged 'euro crisis'
Tag Archives:
euro crisis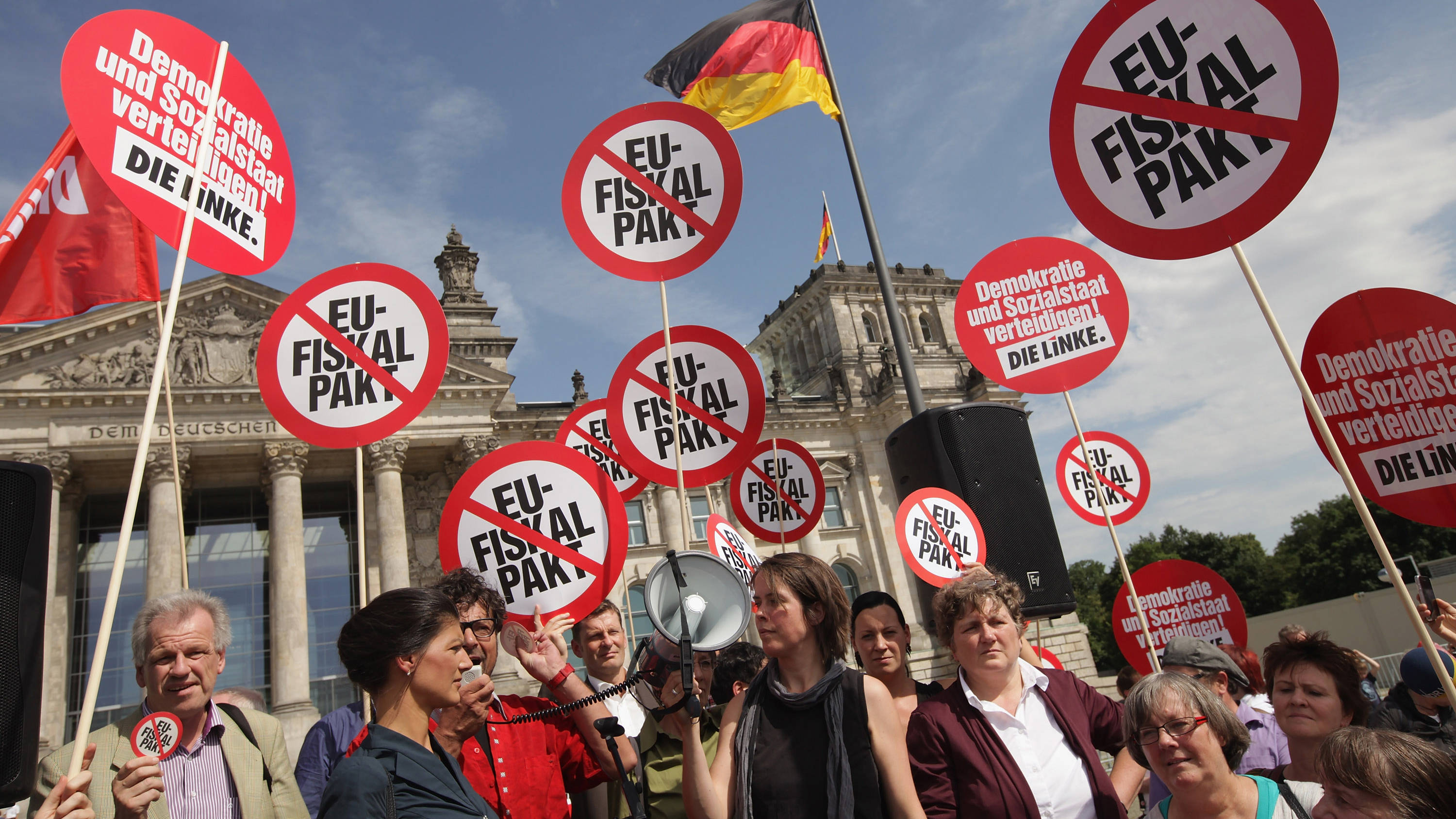 The European Union's proposed recovery fund to counter the pandemic's economic fallout seems destined to leave the majority in every member state worse off. Finance will again be protected, if badly, while workers are left to foot the bill through new rounds of austerity.
ATHENS – The euro crisis that erupted a decade ago has long been portrayed as a clash between Europe's frugal North and profligate South. In fact, at its heart was a fierce class war that left Europe, including its capitalists, much weakened relative to the United States and China. Worse still, the European Union's response to the pandemic, including the EU recovery fund currently under deliberation, is bound to intensify this class war, and deal another blow to Europe's socioeconomic model.
If we have learned anything in recent decades, it is the pointlessness of focusing on any country's economy in isolation. Once upon a time, when money moved between countries mostly to finance trade, and most consumption spending benefited domestic producers, the strengths and weaknesses of a national economy could be separately assessed. Not anymore. Today, the weaknesses of, say, China and Germany are intertwined with those of countries like the US and Greece.
The unshackling of finance in the early 1980s, following the elimination of capital controls left over from the Bretton Woods system, enabled enormous trade imbalances to be funded by rivers of money created privately via financial engineering. As the US shifted from a trade surplus to a massive deficit, its hegemony grew. Its imports maintain global demand and are financed by the inflows of foreigners' profits that pour into Wall Street.
This strange recycling process is managed by the world's de facto central bank, the US Federal Reserve. And maintaining such an impressive creation – a permanently imbalanced global system – necessitates the constant intensification of class war in deficit and surplus countries alike.
…click on the above link to read the rest of the article…
Europe's many fault lines are spreading once again, bringing the endless 
euro crisis
 saga back in 3-D realism. Italy gained a new anti-establishment government last week, even as Spain elected a new
Socialista
government that could crack Catalonia off from the rest of Spain. All of Europe fell under Trumpian trade-war sanctions and threatened their own retaliation. And Germany's most titanic bank got downgraded to the bottom of the junk-bond B-bin.
The Italian shakeup caused US bond prices to soar (yields to drop) in a flight of capital from European bonds, yet US stock investors took this invasion of troubles from foreign shores as good enough news to end the week on a positive note. The NASDAQ especially never looked happier, though financials feared contagion. As a result, the contrast between tech stocks and financials burst upward to its highest peak since the top of the dot-com frenzy:
While Europe's troubles apparently sounded like great news to US stock investors, the Italian crisis caused EU bank stocks in aggregate to take one of their largest avalanches in history, ending in a one-week cliffhanger at their lowest level in two-and-a-half years. Deutsche Bank, Germany's titan of global finance, ended looking like the spawn twin of the Lehman Brothers:
In one week, Europe with its impossible euromess moved back into position of being the world's chief menace. The Eurozone is a house of cards with many exits, each with their own name, as I've written about frequently in the past, and it's time to pay the never-ending euro crisis some attention once again.
Quitaly looks like next Brexit in everlasting euro crisis
…click on the above link to read the rest of the article…
The euro crisis appears to be unfolding right on target rather amazingly. Our target was published in "The Rise and Fall of the Euro" back in 2011. The target for the collapse in confidence was 2016.202. This comes into play March 13/14, 2016. It is rather amazing that we can target a specific event within time, years in advance, and watch these things unfold. This illustrates that TIME remains everything and humanity repeats a process that results in the same response over and over again throughout history. This also demonstrates that our forecasting is not based upon OPINION. With the euro unable to reach 116 of a rebound, this does not look very good in the next few weeks.
Here is what we published in that report:
From a timing perspective, the Bretton Woods System actually began with the operational start of the IMF on March 1, 1947 (1947.164). The euro began officially on January 1, 1999 (1999.002). The birth of the euro essentially completed the 51.6-year cycle between 1947 and 1999. The collapse of the euro appears to be due no later than 17.2 years from its birth, making the ideal target 2016.202, just 23.5 weeks ideally AFTER the peak on this current Economic Confidence Model wave 2015.75.