Home » Posts tagged 'dr fauci'
Tag Archives:
dr fauci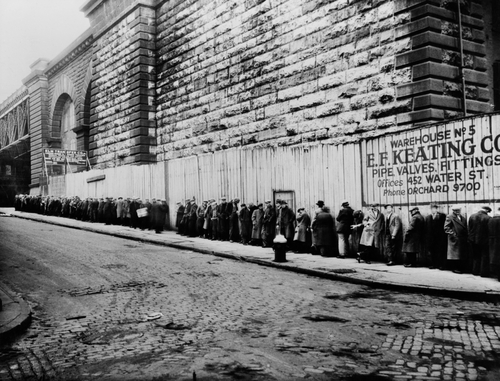 This is a photo of the food line beside the Brooklyn Bridge approach in New York City that prevailed between 1930 and 1935. Never before in history have Americans had to cue in line for food since this orchestrated pandemic by Gates, Fauci, and Klaus Schwab of the World Economic Forum. Food prices are also rising because of this dynamic trio because they have deliberately shut down food production. Farmers have been unable to get their food to market because of the lockdowns and social distancing.
Today, there are food lines once again because of this dynamic trio, the COVID Triumvirate, composed of Gates, Fauci, & Schwab. Food lines have appeared around the country from Miami to New York City. Farmers were already being pushed into bankruptcies in 2019. That is only getting worse because this COVID Triumvirate also wants to end meat production to reduce CO2 (the World Economic Forum is pushing hard to end meat production).
The last time Dr. Anthony Fauci did the Sunday Shows a few weeks back, he achieved a vaunted Washington milestone by doing all five network and cable Sunday shows – NBC, ABC, CBS, Fox News & CNN – in one day. That was back when President Trump's approval rating was soaring, and the good doctor was indisputably the lead 'subject matter expert' guiding the White House's response.
That was less than a month ago. But in that time, so much has changed.
President Trump and the good doctor are said to be at odds over some vaguely critical statements made by Fauci. Of course, that didn't stop the administration and that task force's media team from sending him out to do more Sunday Show appearances as officials hope futures will open higher after Friday's selloff following the first three-day rebound since February.
Still, as the death toll in the US crept above 2,000, Dr. Fauci, officially the director of the National Institute of Allergy and Infectious Diseases and a member of the White House coronavirus task force told CNN's "State of the Union" that models suggest the coronavirus will infect millions of Americans and could kill between 100,000 to 200,000.
However, he stressed that these projections are really a "moving target", and that it's possible the numbers could be much lower – or much higher – depending on how the US handles the response. So far, the disorganized response at the federal level has left a hodge podge of states to deal with their own problems, which is why Louisiana Gov. John Bel Edwards – a Democrat – is begging the Feds for help before the outbreak completely overruns his state's capacity to handle it.
…click on the above link to read the rest of the article…