Home » Posts tagged 'corporate earnings'
Tag Archives:
corporate earnings
You know it's bad when… even the central bankers are warning that the monster they've created is out of control.
As stocks have exploded higher in the face of declining earnings…
And collapsing macro-economic data…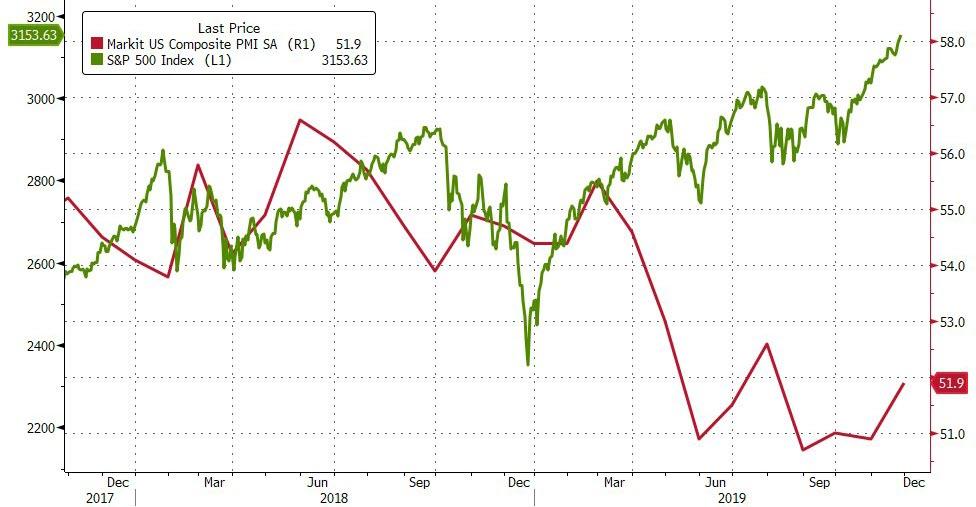 Policy makers from the world's central banks are suddenly raising cautionary flags at the potentially unsafe investing environment stoked by their efforts to flood economies with ultra-cheap money.
Most notably, Bloomberg reports that the spate of recent financial stability assessments began Nov. 15 with the Fed, which warned that low rates could encourage riskier behavior such as eroding lending standards.
A prolonged period of low rates could also "spur reach-for-yield behavior, thereby increasing the vulnerability of the financial sector to subsequent shocks," it said.
However, as Bloomberg notes, despite central banks' qualms about side effects, there's little sign that they'll do any more than issue warnings.
"The Fed since September, the ECB as well, the BOJ, even the central bank of China is starting to provide some more easing," Kevin Thozet, an investment strategist at Carmignac Gestion, told Bloomberg TV on Wednesday.

That's contributed to "a bull market of everything in 2019."
…click on the above link to read the rest of the article…