Home » Posts tagged 'BBB'
Tag Archives:
BBB
Over the past two years, a key event many bears have cited as a potential catalyst for the next market crash, is the systematic downgrade of billions of lowest-rated investment grade bonds to junk as a result of debt leverage creeping ever high, coupled with the inevitable slowdown of the economy, which would lead to an avalanche of "fallen angels" – newly downgraded junk bonds which institutional managers have to sell as a result of limitations on their mandate, in the process sending prices across the corporate sector sharply lower.
As we discussed in July, the scope of this potential problem is massive, with the the lowest-rated, BBB sector now nearly 60% of all investment grade bonds, and more than double the size of the entire junk bond market in the US, and 3.4x bigger than the European junk bond universe.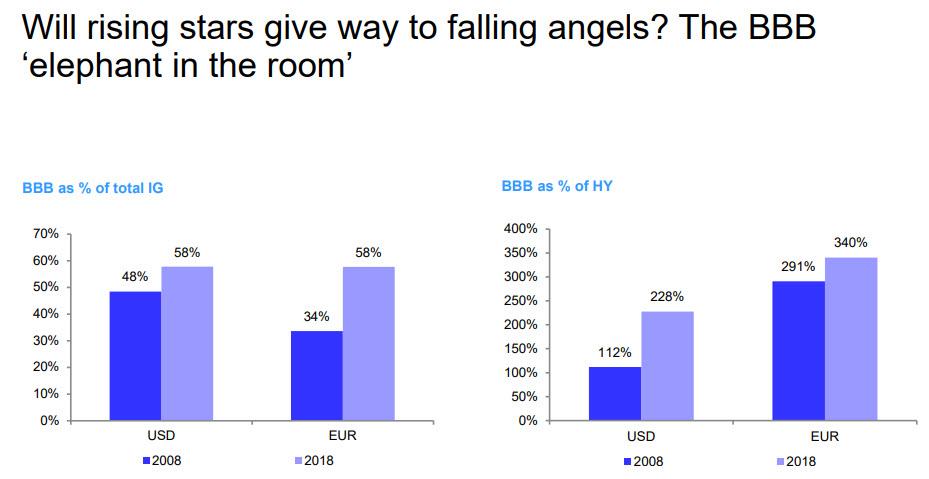 Yet after waiting patiently for years for the inevitable downgrade avalanche which would unleash a zombie army of fallen angels and potentially spark the next crash, with the occasional exception of a few notable downgrades such as PG&E and Ford, this wholesale event has failed to materialize so far, something which the bulls have frequently paraded as an indication that the economy is far stronger than the bears suggest.
But is it? And instead of the economy being stronger, are we just reliving the past where rating agencies pretended everything was ok until the very end, only to admit they were wrong all along, and then slash their rating retrospectively, too late however as the next financial crisis is already raging.
…click on the above link to read the rest of the article…
Having largely disappeared from the market's scope for the past 6 months, ever since Europe "bent" its rule allowing the bailout of Monte Paschi and several smaller banks despite Italy having the greatest amount of disclosed NPLs of any European nation, moments ago Fitch decided to drag Italy right back in the spotlight when it downgraded Italy to BBB from BBB+, citing "Italy's persistent track record of fiscal slippage, back-loading of consolidation, weak economic growth, and resulting failure to bring down the very high level of general government debt has left it more exposed to potential adverse shocks. This is compounded by an increase in political risk, and ongoing weakness in the banking sector which has required planned public intervention in three banks since December."
And some more:
Italy has missed successive targets for general government debt/GDP, which increased by 0.5pp in 2016 to 132.6%. This is 11.2% of GDP higher than the target in the Stability Programme of 2013, the year Fitch downgraded Italy's Long-Term IDRs to 'BBB+', and compares with the current 'BBB' range median of 41.5% of GDP. Fitch forecasts general government debt to peak at 132.7% of GDP in 2017, falling only gradually to 129.3% in 2020 in our debt sensitivity projections.

Fitch's rating Outlook for the Italian banking sector is Negative, primarily reflecting the challenge of reducing the high level of un-provisioned non-performing loans (NPLs), alongside weak profitability and capital generation. The rate of new NPLs edged down to 2.3% in 4Q16, and there is some greater impetus for disposals and write-downs, which has slightly reduced total NPLs. However, sofferenze, the worst category of loans, increased to EUR203 billion in February, from EUR199 billion in October. Total NPLs amount to close to 17.5% of loans and 20% of GDP, and just over half are provided against.
…click on the above link to read the rest of the article…