The polar vortex that moved in yesterday has been nothing short of impressive. Records were broken at the Mount Washington Observatory (MWObs) in New Hampshire's White Mountains.
At 6,288 feet, MWObs is located at the highest peak in the Northeast and has some of the most wicked weather in the world.
The lowest-ever wind chill was recorded early Saturday morning near -109 degrees Fahrenheit, surpassing the previous record of -103 degrees. At the same time, temperatures were around -47 degrees.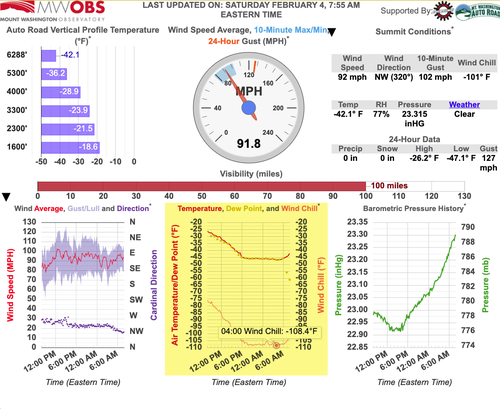 "There is half of me that loves what is going on right now, and the other half of me is pretty terrifying," meteorologist Francis Tarasiewicz, stationed at MWObs, told NBC 10 Boston. 
Here's a live feed from MWObs.
For some reference, Mars averages about -81 degrees. So the temperatures at MWObs are out of this world.
Recall Friday, we noted that the polar vortex weakened and would pour the coldest air in the world into New England.
Here's a snapshot of temperatures around 0800 ET via Ambient Weather data.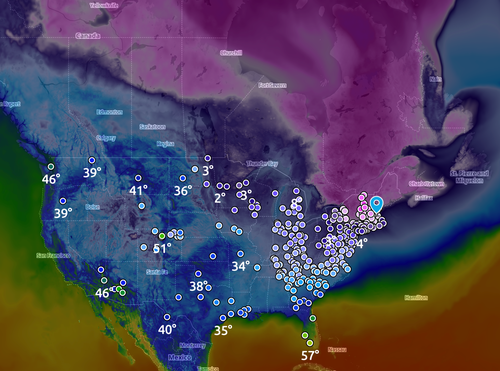 The National Weather Service in Boston said record cold was achieved at 3 out of 4 weather stations.
Brr, it's freezing in Boston.
As well as in NYC.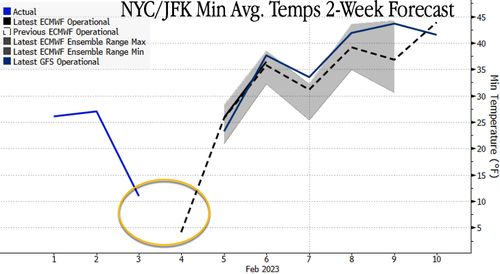 There is some good news. The cold shot across the Lower 48 will only be brief, and above-average temperatures are forecasted for next week.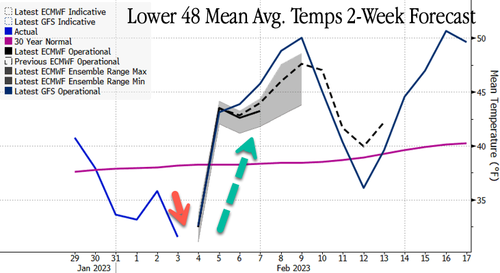 Meanwhile, legendary Punxsutawney Phil saw his shadow on Thursday, which means the possibility of six more weeks of winter.