THE BIGGEST BUBBLE IN HISTORY DEFLATES
YOUR STANDARD OF LIVING IS GOING TO FALL IN HALF
Soon, you'll wake up to hear reports on CNBC and Twitter about ATM machines not working across the country.
JPMorgan Chase CEO Jamie Dimon will appear on CNBC, to explain that for the good of the country, his bank and all the other banks in the country are buying long-dated Treasury bonds. And, to protect America, it's important that we all take a pause and stop withdrawing cash from the system, which means a "temporary" shutdown of other banking operations for a week or two.
It will happen. It's unavoidable.
A couple of interesting facts…
The price of U.S. Treasury bonds is collapsing. Since the end of July, the 10-year Treasury rate has risen sharply, from a yield of 2.65% to over 4.3% now. There haven't been bigger losses in the U.S. Treasury bond market, EVER.
[ZH: The 1-year drawdown of US Equity and Treasury Market Cap is $14 Trillion, the largest draw that we have ever seen in absolute terms…]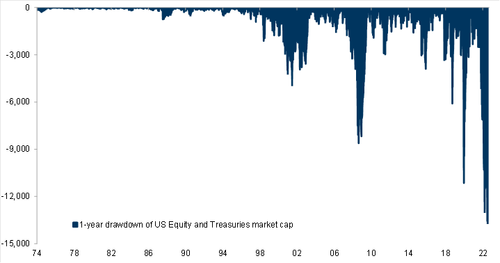 Signs of inflation are fading, and the American economy is obviously heading into a severe recession.
But rather than stabilizing – which is what usually happens – the selloff in longer-dated U.S. Treasury securities is intensifying, and liquidity is at its lowest levels since March 2020.
That suggests that the market doesn't trust the dollar anymore. And that means the entire system is at risk.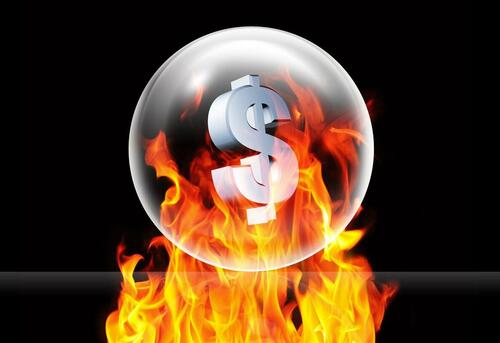 Payback's A Witch
The sell-off in long-dated Treasuries isn't because of last year's inflation. It's because the market knows that the U.S. Treasury cannot possibly afford a real rate of interest on its massive $31 trillion in debt.
…click on the above link to read the rest…