There are "emergency" reasons to drain one's petroleum reserve – like, for example, approaching midterm elections that give you absolutely no right to drain a country's strategic reserve but you do it anyway in hope of picking up some votes from idiots who don't realize that gas will soar to record highs right after the elections – and then there are emergency reasons.
The Biden administration, of course, is dealing with a the quote-unquote emergency…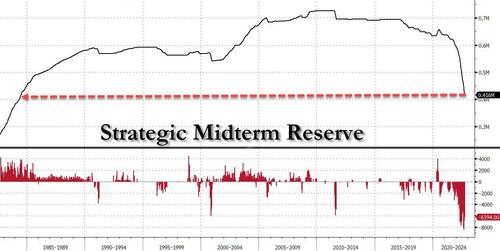 … while France is about to get hit with a bad case of the real deal.
Several days after we learned that gas stations in France have run out of gasoline due to long-running oil refinery strikes, today the French government said that France has tapped its strategic fuel reserves to resupply petrol stations that have run dry, amid ongoing strikes by workers that have stunted refining production and blocked gasoline deliveries.
Government spokesman Olivier Veran acknowledged "tensions" but said there was no shortage of fuel stocks on a national level. He urged consumers not to panic-buy, which of course is the surest way to encourage panic buying, long lines, rationing and all the ugly scenes from those black and white photos of the 1970s.
In the hardest-hit Hauts-de-France region, authorities didn't even bother with rationing and banned outright the sale of petrol and diesel in jerry cans and other portable containers.
"We are obviously monitoring very, very closely the situation together with the operators and, here and there, when it was necessary, we have used our strategic stocks to enable the stations to be supplied," Veran told reporters.
…click on the above link to read the rest of the article…