After a 3-day halt, Russian energy giant Gazprom was expected to resume critical supplies of nat gas to Europe via Nord Stream 1 tomorrow, but it appears that Putin is enjoying the game of cat and mouse a little too much, and gas flows won't be getting restored any time soon, because moments ago Gazprom announced that it had "completely halted" transport of gas to Nord Stream until a previously undetected oil leakage is rectified. That could takes hours, days… or months.
GAZPROM ISSUES STATEMENT ON NORD STREAM 1 MAINTENANCE
GAZPROM: TRANSPORT OF GAS TO THE NORD STREAM PIPELINE HAS BEEN COMPLETELY HALTED UNTIL FAULTS ARE RECTIFIED
GAZPROM: DURING ROUTINE MAINTENANCE WORKS OIL LEAKAGE WAS DETECTED
GAS SUPPLIES TO NORD STREAM FULLY STOPPED
GAZPROM STATEMENT GIVES NO TIME FRAME FOR RESTART OF GAS SUPPLY THROUGH NORD STREAM 1
To quote Walter Sobchak, "Mark it zero" for the foreseeable future.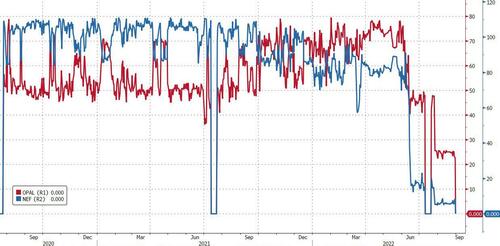 That means that Europe will now be forced to rely even more on… well… Russian gas, in the form of much more expensive LNG resold by China. And after tumbling by more than 50% in the past few days, we fully expect European gas prices are about to go super parabolic and take out all time highs as soon as trading returns on Monday.
The news promptly sent spoos sliding back under 4000.