Over the past week, shocked Europeans – mostly in the UK and Ireland – have been posting viral photos of shockingly high energy bills amid the ongoing (and worsening) energy crisis.
Several of the posts were from small business owners who getting absolutely crushed right now, and won't be able to remain operational much longer.
One such owner is Geraldine Dolan, who owns the Poppyfields cafe in Athlone, Ireland – and was charged nearly €10,000 (US$10,021) for just over two months of energy usage.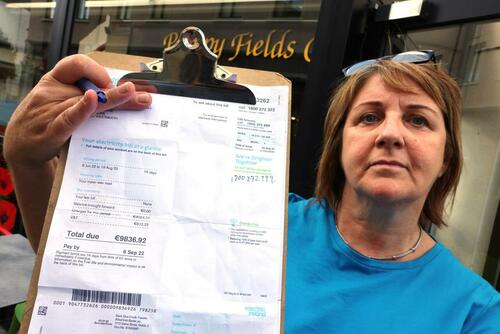 As the Irish Times reports, "The cost of electricity to the Poppyfields cafe for 73 days from early June until the end of August came in at €9,024.70 an increase of 250 per cent in just 12 months. There doesn't include the €812.22 in VAT, which brought her total bill to €9,836.92."
"How in the name of God is this possible," tweeted Dolan.
I got this electricity bill today, how in the name of God is this possible, we're a small coffee shop in westmeath pic.twitter.com/uz5J8BePhB

— poppyfields cafe.?? (@DolanGeraldine) August 29, 2022
UK pensioners are also facing a "terrifying" winter, as elderly Britons are about to get hit with an 80% rise in energy bills in October.
Elderly Britons are set to welcome a boost of around £1,000 to their state pension payments next year thanks to the return of the triple lock, however the cost of living crisis will still leave them significantly poorer.

However, the price cap for energy bills will rise by 80 per cent to £3,549 in October, and it is predicted to rise over £6,600 next year according to Cornwall Insight.
…click on the above link to read the rest of the article…