China's water crisis is nothing new, but it's gotten worse – and is now on the 'brink of catastrophe' and could trigger a global catastrophe, according to Foreign Affairs.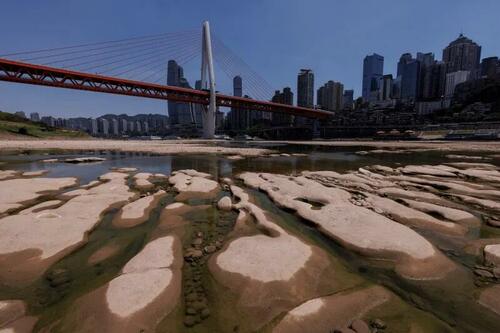 Given the country's overriding importance to the global economy, potential water-driven disruptions beginning in China would rapidly reverberate through food, energy, and materials markets around the world and create economic and political turbulence for years to come. -Foreign Affairs
For starters, there's no substitute for water – which is essential for food production, electricity generation and sustaining all life on earth.
In China, which consumes ten billion barrels of water per day (approximately 700x its daily oil consumption), decades of economic and population growth have pushed northern China's water system to unsustainable levels.
According to the report, the per-capita water supply around the North China Plain at the end of 2020 was nearly 50% below the UN's definition of acute water scarcity at 253 cubic meters. Other major cities, including Beijing, Shanghai, Tianjin, are at similar (or lower) levels.
For comparison, Egypt had per-capita freshwater resources of 570 cubic meters, and has nowhere near as large of a manufacturing base as China.
Not fit for human consumption
Also worrisome, is that 19% of China's surface water is not fit for human consumption according to China's Ministry of Ecology and Environment. Roughly 7% was deemed unfit for any use at all.
Groundwater was worse – with around 30% considered unfit for consumption, and 16% unfit for any use.
In order to utilize this water, Beijing will need to make major investments in treatment infrastructure, which will require a significant increase in electricity usage in order to power the equipment.
Working against progress is China's farming and industrial industries, which dump contaminants into the country's groundwater – potentially setting the stage for decades of additional impairments.
…click on the above link to read the rest of the article…