U.S. stock index futures crashed along with global markets on Thursday as Russia's assault on Ukraine sent investors fleeing risky assets, while the tech-heavy Nasdaq was set to open in a bear market. Contracts on the Nasdaq 100 were down 2.9% by 7 a.m. in New York, having dropped as much as 3.6% earlier and signaling that the underlying gauge was poised to fall 20% from its November record high for the first time since the pandemic; the S&P 500 was down 2.23% or 98 points to, 4,214, while Dow futures lost 2.3%.  The flight to safety saw the 10-year Treasury yield tumble 14 basis points to under 1.9%. Gold hit the highest since September 2020, while the dollar also spiked higher.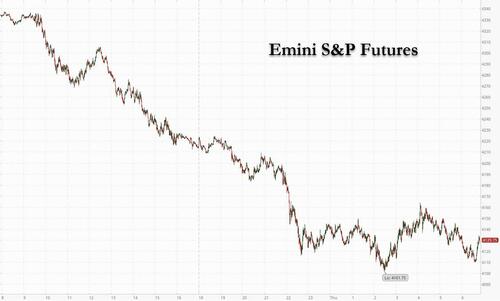 The Nasdaq was set to open in a bear market, with NQ futures down more than 20% from its all time highs just two months ago…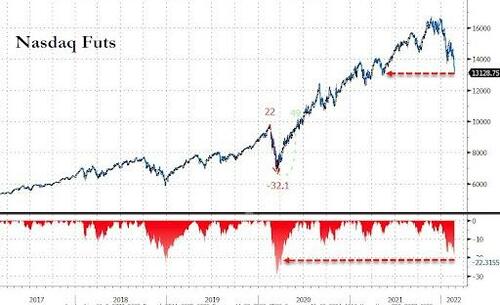 … while the VIX spiked higher, and was last just around 37, up almost 10 points on the day.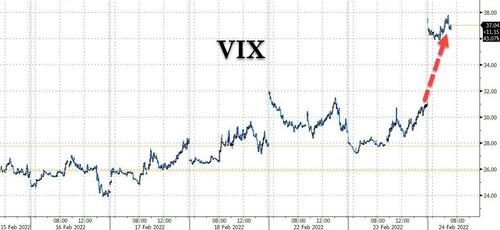 Russian forces assaulted targets across Ukraine after Putin ordered an operation aimed at demilitarizing the country. Putin said Russia doesn't plan to "occupy" its neighbor but that action was necessary after the U.S. and its allies crossed Russia's "red line" by expanding the NATO alliance. Military vehicles breached into the Kyiv region that borders Belarus, Ukraine's Border Guard Service said in a statement.
Western powers condemned the military incursion and vowed to step up penalties on Russia — President Joe Biden said the U.S. and its allies will impose "severe sanctions." European leaders are planning sanctions that will target Russian banks. The government in Kyiv called it a "full-scale invasion" as it declared martial law and called for international support including harsher sanctions on Russia.
…click on the above link to read the rest of the article…