Update (0900ET): Europe's energy crisis deepened Tuesday as Germany halted the process of certifying the Nord Stream 2 natural gas pipeline. Putin's right hand man, Dmitry Medvedev responded to German Chancellor Olaf Scholz's comments about the certification of the controversial Russia-to-Germany natural gas pipeline that 'can't happen right now' by tweeting:
German Chancellor Olaf Scholz has issued an order to halt the process of certifying the Nord Stream 2 gas pipeline. Well. Welcome to the brave new world where Europeans are very soon going to pay €2.000 for 1.000 cubic meters of natural gas!
Based on Medvedev's tweet, translating MWh to cubic meters, it appears gas prices for Europe could be headed back to crisis levels not seen since late 2021.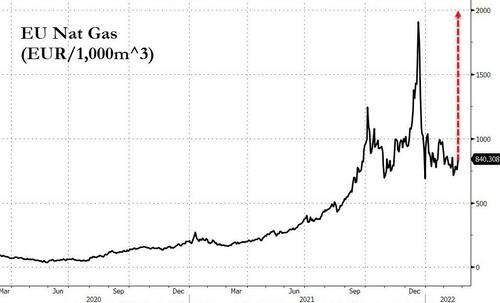 Europe is heavily reliant on Russia for its gas needs, and to block the Nord Stream 2's certification will only create havoc in European energy markets.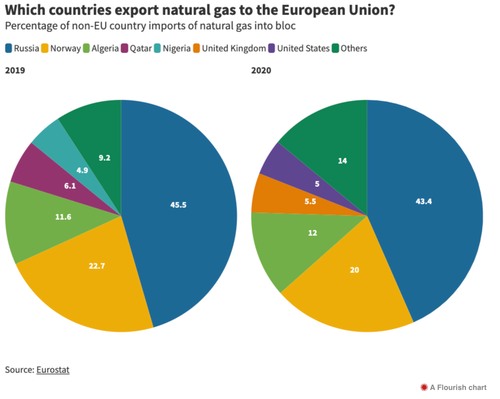 Europe's ultra-low gas storage levels for this time of year will keep the market very tight even beyond the winter season.
* * *
At a moment the United States and Europe are busy mulling over what sanctions to impose on Moscow for Putin's independence recognition for Ukraine's separatist republics – on the one hand wanting Russia to feel the pain as a warning against moving further into Ukraine (beyond what the Kremlin is dubbing "peacekeeping" troops in Donetsk and Luhansk, which entered the republics overnight), and on the other wanting to avoid severe enough economic measures that would almost guarantee immediate escalation – Germany on Tuesday has announced it has halted the certification process for the Nord Stream 2 pipeline.
…click on the above link to read the rest of the article…