US coal is experiencing a massive boom under President Biden despite the administration trying to kill fossil fuels by touting net-zero goals at the COP26 climate conference in Glasgow.
On Monday, S&P Global Market Intelligence released data that showed prices for coal from Central Appalachia jumped more than $10 last week to $89.75 per ton, the highest level since 2009.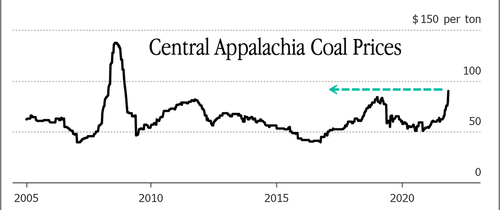 Awkwardly for Biden, who has promoted a carbon-free grid by 2035, the US wasn't on the list of more than 40 countries at the UN meeting to phase out coal. "It's very disappointing because the science is quite clear that we have to turn sharply away from coal this decade if we are going to meet our climate goals," said Rachel Cleetus, policy director at the Union of Concerned Scientists.
"We need very clear signals that orientate the US towards clean energy," Cleetus added. "The climate crisis is too dire to just wait for coal to fall out. It's just another signal of the sway the fossil fuel industry still has over US politics."
Coal's return is due to power plants transitioning from natural gas to coal because rising prices have made it uneconomical to produce electricity. Idled rigs and slashed drilling has dampened US crude production that is putting a bid under crude prices.
…click on the above link to read the rest of the article…