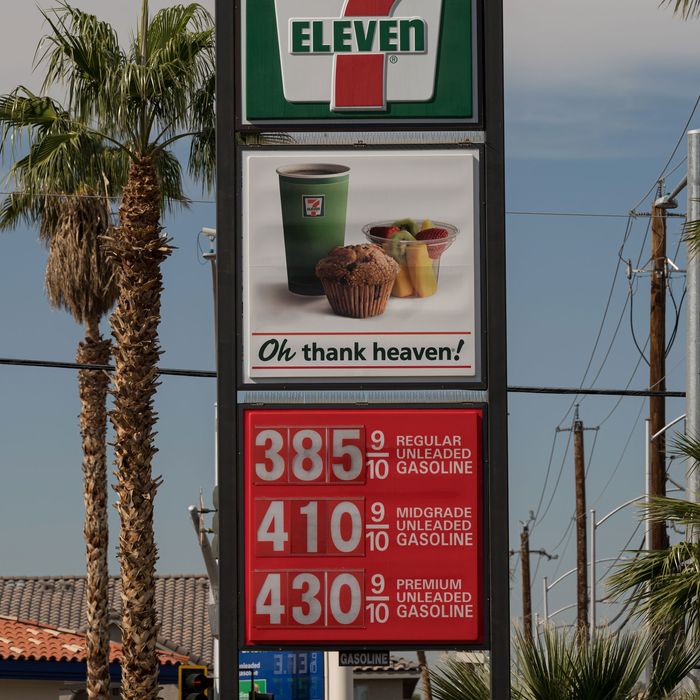 Photo: Bridget Bennett/Bloomberg via Getty Images
The global economic recovery is running low on fuel. Chinese factories have been flickering on and off as Beijing rations electricity. Britons have been parking in petrol lines as their nation's pumps run dry. Americans have turned on their president as spiking gas prices eat their wage gains. And the entire northern hemisphere is sweating the cost of keeping warm this winter.
High energy prices have long been the bane of the post-2020 recovery. But as the days grow shorter and the nights get colder, their salience is steadily rising. In recent days, Democrats and Republicans alike have called on Joe Biden to take immediate action to reduce the cost of energy. The former implored the president to bring down gas prices by tapping the nation's emergency oil reserves. The latter chastised Biden for personally driving up energy prices by blocking new oil and gas drilling on federal land.
Meanwhile, fossil-fuel lobbyists and eco-socialists alike are casting the energy crunch as a byproduct of the world's (slow and uneven) green transition. In their account, investors have been spurning new oil and gas production out of fear of future regulations, while renewables have failed to scale up fast enough to compensate. For oil barons, this narrative functions as an argument against stringent carbon pricing. For Marxists, it offers hope for an impending crisis of capitalism, as the old energy system dies and the new one struggles to be born.
Global energy markets contain multitudes. The price of oil internalizes myriad forces, from the financial to the macroeconomic to the geopolitical to the meteorological. So, one can tell a wide range of true stories about the energy crisis of 2021…
…click on the above link to read the rest of the article…