In late October, the market rejoiced and nat gas prices puked (even as we warned this was just the latest joke the Kremlin was playing at gullible Europe's expense) after news that Russian President Vladimir Putin had asked Gazprom to "gradually" raise volumes to Europe starting November 8. So fast forwarding to November 8, i.e., today when not only is there no gas being shipped to Germany via Russia's anchor Yamal pipeline as of today…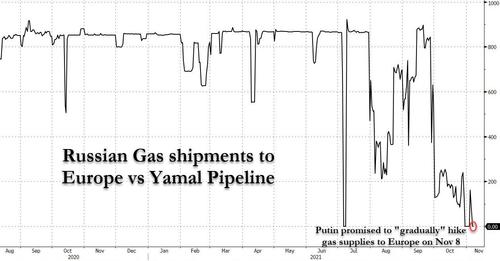 … but there are there no signs the continent will get any relief any time soon, with Gazprom moments ago tightening the proverbial (and literal) squeeze on Europe's gas supply:
GAZPROM DIDN'T BOOK EXTRA GAS PIPELINE CAPACITY FOR TUESDAY
GAZPROM OPTS AGAINST SENDING MORE GAS TO EUROPE VIA UKRAINE
NO PIPE SPACE BOOKED TO SHIP EXTRA GAS INTO GERMANY'S MALLNOW.
Today's squeeze follows a supply shock on Sunday, when no extra capacity to send additional supplies to Europe was booked in auctions. That's a disappointment for traders who had been counting on Gazprom to follow Putin's orders to ease the continent's supply crunch.
Oops.
Natural gas prices have more than tripled this year as Europe started the heating season with the lowest inventories in more than a decade. Russia had been keeping supplies capped, but traders were hoping for relief after Putin ordered Gazprom to send more gas to Europe from Nov. 8, when domestic storage sites were set to be full. Meanwhile, after peaking above €160 then tumbling back to €60, Dutch nat gas futures have resumed their steady climb again as the prospect of a freezing European winter once again gets all too real.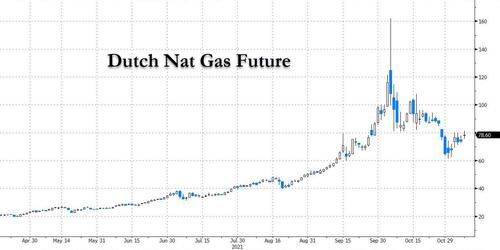 …click on the above link to read the rest of the article…