The transition away from hydrocarbons is not a seamless as many hope. The latest data from the Energy Information Administration (EIA) shows a significant decline this year in hydropower generation amid historic droughts.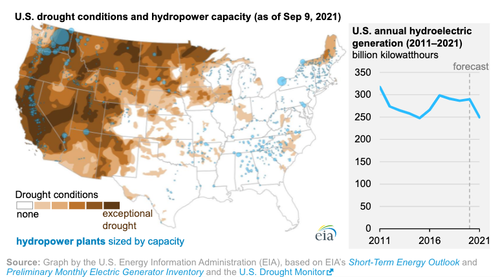 The magical thinking about renewable energy and President Biden's calls for the U.S. power grid to be 100% clean by 2035 is a pipe dream.
EIA estimates U.S. hydropower plants will be 14% lower in 2021 than it was in 2020. Hydropower generation in the Northwest, which includes the Columbia River Basin and parts of other Rocky Mountain states, is expected to be 12% lower than the prior year. Hydropower generation in California will be down a shocking 49% in 2021 than in 2020.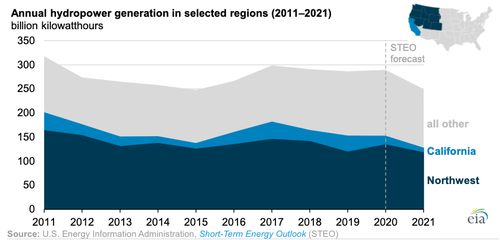 The dry conditions have reduced water levels across large parts of the Columbia River Basin this summer, drought emergencies were declared in counties across Washington, Oregon, and Idaho. Some reservoirs in California halted hydropower generation due to declining water levels.
Between March and April, hydropower generation in Washington and Oregon was 10% below the 10-year range. Over the summer, hydropower generation in these states moved back within range. But in California, hydropower generation stayed below the 10-year range as the Edward Hyatt Power Plant at Lake Oroville went offline due to low water levels last month.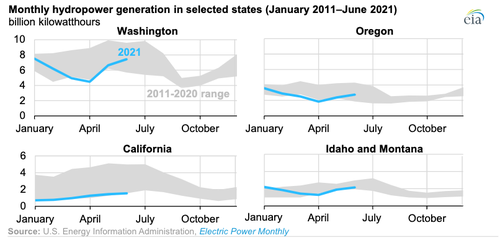 This summer, California's energy challenges show the state's aggressive push to slash carbon emissions by shifting to renewable energy has its disadvantages…
…click on the above link to read the rest of the article…