Inflation ate my homework?
You saw this coming after today's release of the Personal Consumption Expenditure inflation index. "Core PCE" inflation, which excludes food and energy – the lowest lowball inflation index the US offers and which the Fed uses to track its inflation target – spiked by 6.4% annualized for the past three months. In May alone it rose by 0.5% from April.
Consumers got some remaining stimmies and extra unemployment checks and other stimulus funds from the government in May, which still puffed up their income, but less than in prior months. Consumers then spent this income in a heroic manner. But inflation ate a chunk out of their spending in May, and adjusted for inflation, it fell.
Adjusted for inflation, "real" consumer income from all sources fell 2.4% in May from April, and was down 1.1% from May last year, according to the Bureau of Economic Analysis today. Not adjusted for inflation, consumer income fell 2.0%. Each of the three waves of stimmies triggered a glorious WTF spike in income. Those stimmies are now petering out, but consumers are still receiving other payments from the federal government, including special unemployment benefits: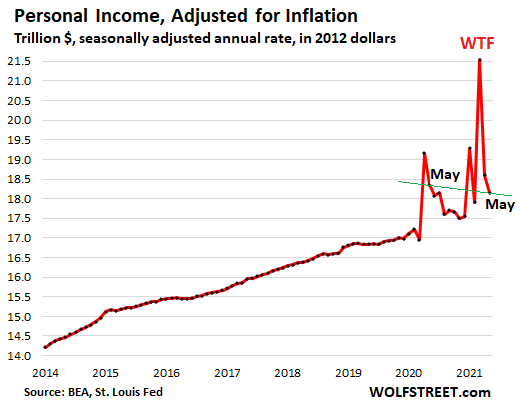 How this bout of inflation, the highest since the early 1980s, is starting to add up month by month, inexorably, and cumulatively, is depicted in the chart below. It tracks personal income from all sources, adjusted for inflation (red line) and not adjusted for inflation (green line), both expressed as an index set at 100 for January 2019. Note the sharply widening gap between the two lines. That's the effect of inflation. I'm going track it that way going forward: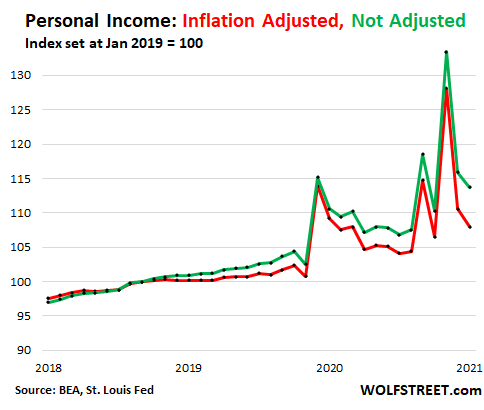 Inflation ate my homework?
American consumers are still trying to spend heroic amounts of money as fast as they can – they just didn't keep up with inflation.
…click on the above link to read the rest of the article…