Need a used pickup truck? Forget it, or pay out of your nose for it. But even spurned mid-sized cars are seeing stunning price increases.
Prices of used cars and trucks of up to eight years old that were sold at wholesale auctions during the week ended March 21 jumped by 3.1% from the prior week, according to data by J.D. Power on Friday. Over the past four weeks, prices have spiked by 8.3%. Compared to early March 2020, just before the end of the Good Times, prices have spiked by 19.5%: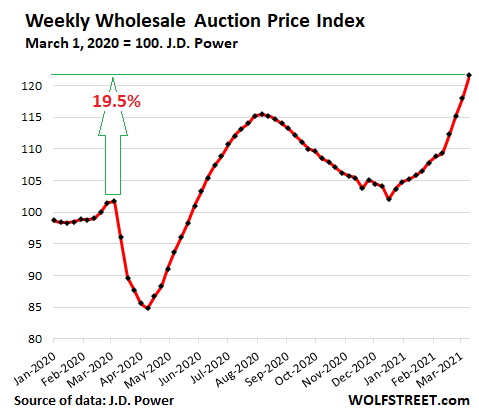 When you talk to dealers that came back from auctions to buy vehicles to replenish their inventories, they tell you with an exasperated voice about prices being bid up to ridiculous levels, particularly on trucks. But they're in the business of buying and selling vehicles, and they have to replenish their inventory, and so they're buying, and in order to buy, they have to bid up prices, and they're planning to pass those ridiculous prices plus adequate profits on to their customers.
And in a big change with past practice, the astute American consumer that haggled and shopped to get the best deal has not been resisting the price increases that started last year — but has been paying them.
Manheim, the largest wholesale auto auction operator and a unit of Cox Automotive, reported in its mid-month update that wholesale vehicle prices mid-March had jumped by 3.75% from February, based on its Used Vehicle Value Index (adjusted for mix, mileage, and seasonal factors).
The index is now 22.3% higher than in February 2020, before all heck broke loose, the largest 13-month increase in the data going back to 1998, beating the 13-month surge of 20% in 2010, following the cash-for-clunkers program that had taken a whole generation of serviceable older used vehicles off the market: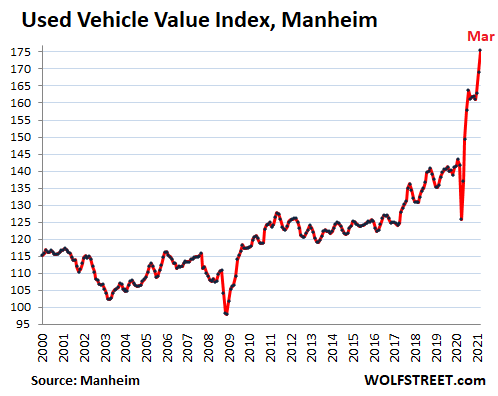 …click on the above link to read the rest of the article…
wolf richter, used vehicle prices, inflation, wolfstreet,