TMX and Coastal GasLink face resurging opposition across the province as Trudeau invites Biden to talk climate change.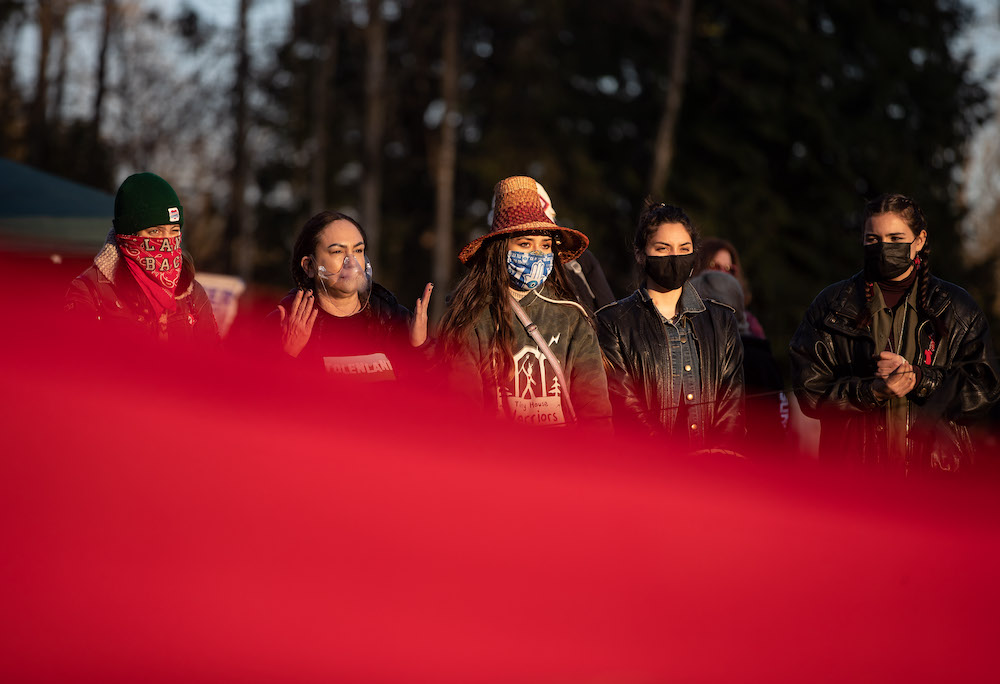 [Editor's note: This is the latest in a year-long occasional series of articles produced by InvestigateWest in partnership with The Tyee and other news organizations exploring what it will take to shift the Cascadia region to a zero-carbon economy, and is supported in part by the Fund for Investigative Journalism.]
The years-long battle against the Trans Mountain pipeline expansion is pumped with new urgency as Prime Minister Justin Trudeau and U.S. President Joe Biden plan to hold a climate summit next month.
Indigenous and community leaders announced earlier this month they are "beginning a new wave of action" against the project, also called TMX, which will increase the flow of bitumen crude from Alberta's oilsands to be loaded on ships in Burnaby, B.C.
At the TMX construction site in Burnaby, protesters have established prayer circles and blocked cutting of trees to make way for the pipeline, resulting in arrests.
The ripples of resistance extend to other corners of the province, creating stress within many communities in the project's path.
Three years ago, Mike McKenzie felt that he had to leave his home, and he's not yet returned. He says he was no longer welcome in Skeetchestn, a community in central British Columbia west of Kamloops that's one of 17 reserves in Secwepemc Nation.
…click on the above link to read the rest of the article…
british columbia, pipeline protests, the tyee, braela kwan, canadian government, oil and gas industry, oil and gas pipelines