I get tired of reporters or bots who don't read beyond the 2nd paragraph of Labor Department press releases. 2.35 million initial state and federal unemployment claims. PUA claims (gig workers) now 41% of total unemployment. 20% of labor force on unemployment insurance.
It just doesn't let up. An astounding number of newly laid-off workers keeps filing for unemployment benefits week after week and pile on top of the people already unemployed. And the number of people who started working again isn't big enough to make a visible dent in the curve.
In the week ended July 18, the total number of people who continued to claim unemployment compensation under all state and federal unemployment insurance programs, including gig workers and contract workers, edged down to 31.8 million (not seasonally adjusted), as reported by the Department of Labor this morning. It was the third highest level ever and just a tad off the peak: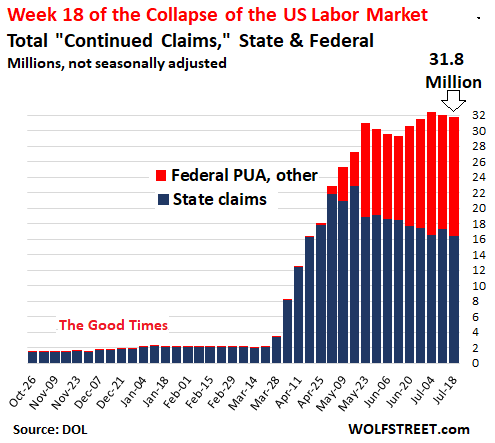 Unabated lazy misreporting in the media.
If you read this morning or heard on the radio that 16.2 million people were claiming unemployment insurance – the "continued claims" – and you thought that there were only 16.2 million people who claimed unemployment benefits, you fell victim to lazy misreporting in the media, by reporters or bots that didn't read the Labor Department's press release beyond the second paragraph.
Those 16.2 million were only the claims under state programs, and do not include the claims under federal programs. All combined, there were 31.8 million people on the unemployment rolls. That's what the Labor Department reported further down in the press release.
There is a huge difference between 16.2 million and 31.8 million unemployed people!
…click on the above link to read the rest of the article…