Folks started driving again – including those who used to take mass-transit. But jet fuel demand is still in collapse-mode. And overall consumption remains way down.
Ridership on San Francisco's Bay Area Rapid Transit (BART) trains was still down 89% in June, compared to June last year, according to BART. Not because the Bay Area economy has collapsed by 89% — it has not — but because many people are working from home, and those people who do go to work are driving to avoid the infection risks associated with riding on a commuter train. Driving-instead-of-taking-mass-transit is playing out across the US. And we're seeing some of that in gasoline demand. But jet fuel consumption is still in collapse mode. And diesel consumption has been down sharply for over a year.
Starting in mid-March, demand for gasoline collapsed in a historic manner. By now 32 million people are claiming unemployment compensation under state and federal programs, and many others switched to work from home, and both groups quit driving to work. Gasoline consumption at the low point in the week ended April 3 plunged by -48% year-over-year, to just 6.7 million barrels per day, the lowest in the EIA's data going back to 1991.
Folks started driving again, bit by bit, to go to work, and because it's summer driving season. In the week ended July 17, gasoline consumption, at 8.55 million barrels per day, was down 11.6% year-over-year, according to EIA data. Consumption of gasoline has been in the minus-6% to minus-12% range now for the fifth week in a row, with the latest week being the steepest decline: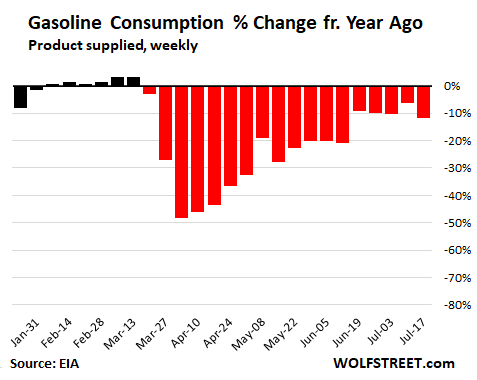 The EIA tracks consumption in terms of product supplied by refineries, blenders, etc., and not by retail sales at gas stations.
…click on the above link to read the rest of the article…