And this is just for April, the very beginning of the Pandemic's impact on housing.
OK, it's actually worse. Mortgages that are in forbearance and have not missed a payment before going into forbearance don't count as delinquent. They're reported as "current." And 8.2% of all mortgages in the US – or 4.1 million loans – are currently in forbearance, according to the Mortgage Bankers Association. But if they did not miss a payment before entering forbearance, they don't count in the suddenly spiking delinquency data.
The onslaught of delinquencies came suddenly in April, according to CoreLogic, a property data and analytics company (owner of the Case-Shiller Home Price Index), which released its monthly Loan Performance Insights today. And it came after 27 months in a row of declining delinquency rates. These delinquency rates move in stages – and the early stages are now getting hit:
Transition from "Current" to 30-days past due: In April, the share of all mortgages that were past due, but less than 30 days, soared to 3.4% of all mortgages, the highest in the data going back to 1999. This was up from 0.7% in April last year. During the Housing Bust, this rate peaked in November 2008 at 2% (chart via CoreLogic):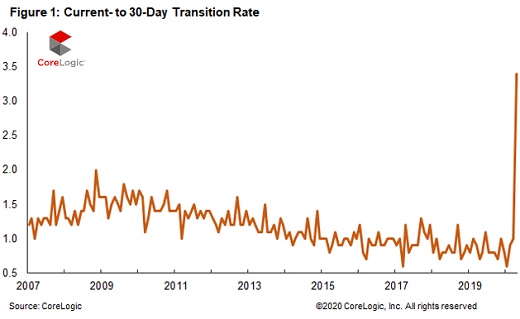 From 30 to 59 days past due: The rate of these early delinquencies soared to 4.2% of all mortgages, the highest in the data going back to 1999. This was up from 1.7% in April last year.
From 60 to 89 days past due: As of April, this stage had not yet been impacted, with the rate remaining relatively low at 0.7% (up from 0.6% in April last year). This stage will jump in the report to be released a month from now when today's 30-to-59-day delinquencies, that haven't been cured by then, move into this stage.
…click on the above link to read the rest of the article…